You are here
Weekend Book Sales--Currently Paused
Our weekend book sales are usually held quarterly at the La Crosse Public Library, 800 Main Street. A preview sale is always held the night before as a special bonus for Members of the Friends of the Library. Join the Friends or renew your membership at the door to gain access to the preview sale.
2021 Book Sales
Canceled until further notice due to the Coronavirus pandemic.
Donate through Amazon
Did you know that you can shop at AmazonSmile and support the Friends of the Library this holiday season? When you shop AmazonSmile, 0,5% of your purchase is donated to the charity of your choice. You can designate the La Crosse Public Library as your chosen charity.
Go to smile.amazon.com and log in to your Amazon account.
In the "pick your own charitable organization," box, type Friends of the La Crosse Public Library and click "search."
On the next screen, click the "Select" button next to Friends of the La Crosse Public LIbrary and continue to shop.
Monday Book Sales-Currently Paused
About the Friends of the Library
Friends encourage the use of the Library as a center for the educational and cultural life of the community, by emphasizing the following goals:   
To foster closer relations between the library and the citizens of La Crosse by focusing public attention on library services, facilities, resources and needs.
To assist in making funds available for special needs beyond the library budget.
To influence the gifts of books and other materials, desirable collections, endowments, and bequests to the library through ways approved by the La Crosse  Library Board of Trustees.
To encourage participation of volunteers in all the activities that meet the needs of the library.
 Download our brochure and become a member!
To contact the Friends, call the First Floor Book Shop: 608-789-7149
Board of Directors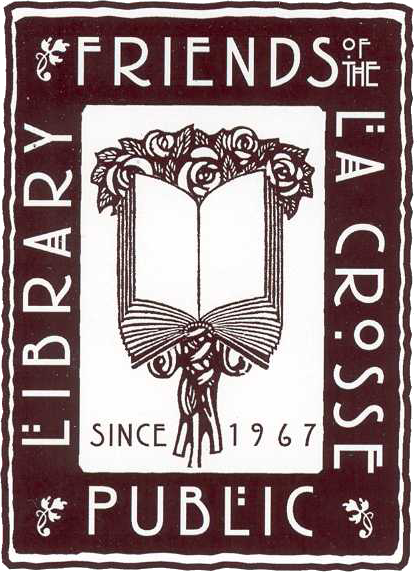 Mary Ellen Stolder, President     
Wendy Butler, Vice-President
Kris Betz, Acting Treasurer               
Ann Keuper, Secretary                          
Susan Austin
Margaret Fleming
Mike Hanson
Karen Hillary
Beth Sciborski
Nancy Solberg
Marge Weiske 
Activities of the Friends
The Friends' board meets ten times a year to maintain and execute the established goals, providing for the needs of the La Crosse Public LIbrary in the future. Activities of the Friends include:
Book sales for members and the public are held regularly and listed on the events calendar. Volunteers are essential to these popular sales. Stop in the Bookshop, or call to volunteer: 608-789-7149.
The Bookshop is located at the south entrance of the Main library and provides for the ongoing sale of quality donated materials. The Friends also have a small selection at the North and South branches of the library.
Funding for non-budgeted library needs such as equipment, materials, library programs, and staff development.
Hospitality needs for Friends' meetings, library functions and staff events.
Publication of the Friends' newsletter.
The Friends support numerous programs including:
Books and Brunch
Archives' Dark La Crosse Tours
Children's programming (98%!)
Americorps Literacy Project
The Seed Library