We are so excited to announce we are now able to accept new requests for items for curbside pickup!  New requests can be placed online through our catalog at encore.wrlsweb.org/, or place your request via phone:
Call 608.789.7128 to request youth materials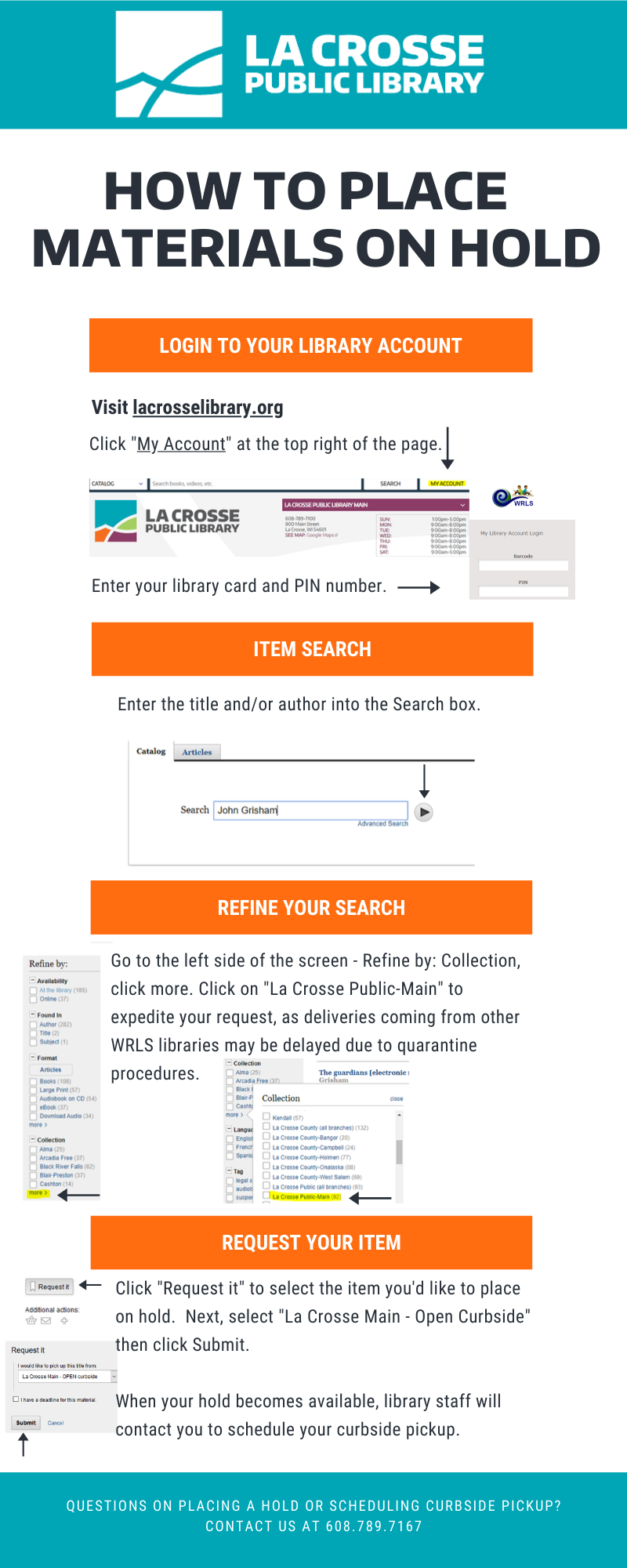 or 608.789.7167 for all other requests
If we are not able to answer your call, please leave a message and we will call you back as soon as possible.

Need a little help using the catalog for your requests? Check out this short video which takes you through the process step by step!
Curbside Pickup can be scheduled at all three of our locations during the following times:
Main Library
Monday-Friday 10am-6pm and weekends 1pm-5pm
North Community Library
Mondays 10am-12pm and Thursdays 1pm-3pm  

South Community Library 
Monday 1pm-3pm and Thursdays 10am-12pm
Please note:
Once we receive your request, we will need time to locate the item(s) you are looking for.
Because of the high volume of requests, we currently cannot offer same day service. On average fulfillment of requests are taking a minimum of a few days and can vary from day to day.
Expect longer delays from items coming from other locations.
Once we process your request, we will call you to schedule a curbside pickup at our 9th Street entrance at the 800 Main Street location.
All holds will need to have a scheduled appointment for pickup.
You may drop off materials when you pick up your holds.
Thank you for your patience during this time.
*For your safety, all items have been properly quarantined as per CDC regulations, and staff wear protective gloves when handling materials.
Curbside Returns
Returns will be accepted during normal library business hours, beginning Friday, April 24, at 9:00 AM.

Returns will be accepted on the 9th St side of the building at Main

Patrons will place items in a bin that a staff person will roll out to their car. Patrons with physical disabilities may let staff know when they arrive and staff will do the best they can to assist.

Items returned will be placed in quarantine for 72 hours as recommended by the Wisconsin Department of Public Instruction, which oversees libraries in the state.

Staff will be wearing gloves and surgical masks while handling materials.

If patrons are not comfortable returning materials at this time, they can hold onto them until our physical locations reopen.