In an effort to expedite the holds process, we are excited to announce the following service updates which we hope will make picking up and returning materials easier for our patrons while abiding by COVID-19 restrictions.

Main Library Pickup*
Beginning Thursday, June 25, patrons requesting materials will receive electronic or phone notification that their items are available.  Patrons will no longer be required to schedule a pickup time at the Main library.
Once a patron receives their hold notification, they can come to the Main St. Library to pick up their items during our current hours: Mon-Tue; Thu-Fri: 10am - 6pm; Sat: 1 - 5pm.
Patrons should enter the vestibule on the South (parking lot) side of the building and give their name, library card or ID to staff who will retrieve their holds and check them out
Patrons who are more comfortable using curbside delivery can contact 608.789.7167 to request curbside assistance.

*Please note: per instructions from the City of La Crosse, all staff and visitors are required to wear a mask or cloth face-covering over your mouth and nose when inside a City of La Crosse building.  For your safety, all items have been properly quarantined as per CDC regulations, and access to our collection will be by staff only.  All staff wear protective gloves and face-coverings while handling materials.
 
Main Library Returns
The drop box outside the South entrance will be open 24 hours a day for patrons to return materials at their convenience.
Items returned will be placed in quarantine for 72 hours as recommended by the Wisconsin Department of Public Instruction, which oversees libraries in the state.

Community Library Curbside Service
Patrons who wish to pick up materials at either our North or South Community Library locations must call 608.789.7167 to schedule curbside pick-up during the following times:
North Community Library
Thursdays 11am - 12pm 

South Community Library 
Thursdays 1 - 2pm

Need assistance requesting your holds?  We're happy to help!
New holds requests can be placed online through our catalog at encore.wrlsweb.org/, or place your request via phone:

Call 608.789.7128 to request youth materials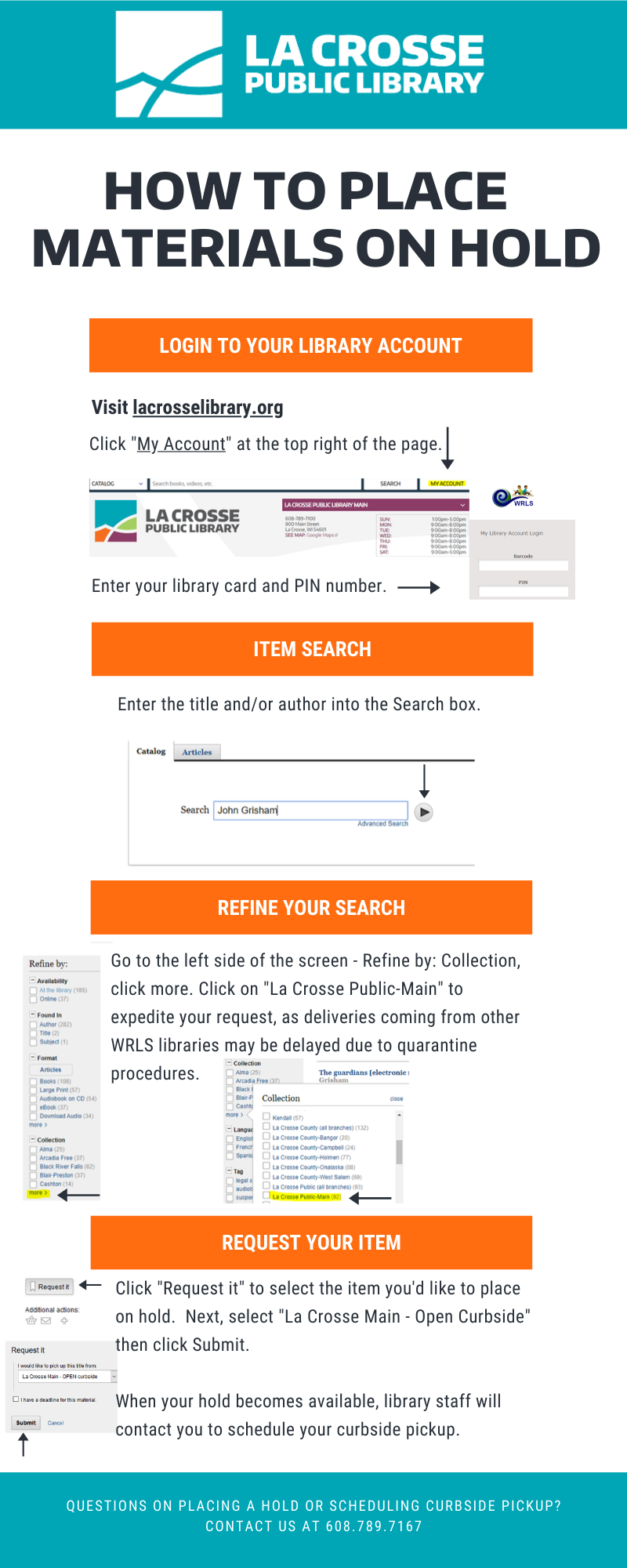 or 608.789.7167 for all other requests
If we are not able to answer your call, please leave a message and we will call you back as soon as possible.

Need a little help using the catalog for your requests? Check out this short video which takes you through the process step by step!