You are here
The library has a number of ways for you to get online content including ebooks, audiobooks, and music. 
Libby, the mobile app for Overdrive
Anyone with a Winding Rivers Library System card is eligible to use Wisconsin's Digital Library, also known as Overdrive. Overdrive information and help.
City of La Crosse residents with a valid library card can stream movies, music, and get books, audiobooks and comics through Hoopla. This service is only available to residents of the City of La Crosse. Hoopla help page.
City of La Crosse residents with a valid library card can stream over 30,000 film titles, including the Criterion Collection, foreign and art films, documentaries and The Great Courses. 
The TumbleBookLibrary is a collection of TumbleBooks (animated, talking picture books) with fiction, non-fiction and foreign language titles, Read-Alongs (chapter books with sentence highlighting and narration but no animation), TumbleTV which consists of pre-set playlists of a sequence of books, Tumble Puzzles & Games, and TumbleResources for teachers and students.  Home use is paid for and available to city of La Crosse residents.
Find multimedia educational content including Bill Nye the Science Guy episodes and online activities, and Soundzabound, where students and educators can find royalty-free sounds to use in media creations. 
The Check-In Podcast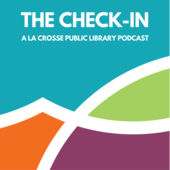 Do you enjoy podcasts?  The library has you covered! This monthly podcast vary in length from month to month and will be filled with content including information about upcoming programs and events, interviews with authors and artists, staff picks, interviews with patrons and more. If you have suggestions for features you'd like to hear, give our host, Brendan Hubbs, your ideas at podcast@lacrosselibrary.org. 
You can find The Check-In in Google Play and on iTunes.