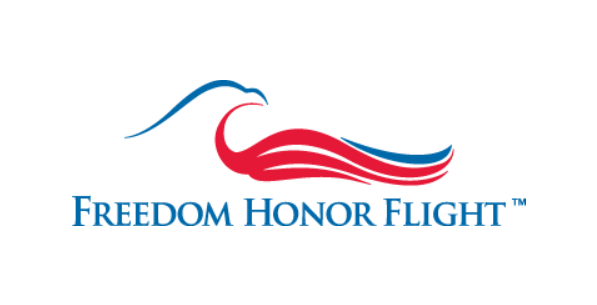 This month our featured nonprofit is Freedom Honor Flight. This La Crosse-based organization, formed in 2008, provides free flights for local veterans to Washington D.C. These day-long trips help our veterans visit the memorials that stand in their honor. These bi-annual flights depart and return to La Crosse on the same day, allowing veterans from western Wisconsin, southeast Minnesota, and northern Iowa the opportunity to spend several hours at the World War II Memorial and to experience other Washington D.C. landmarks such as the Korean War Memorial, Vietnam Wall, Lincoln Memorial, the Marine Corps War Memorial, and others as time permits. Veterans are taken on these trips on a first-come, first-served basis with priority given to WWII veterans and veterans with a terminal illness.
This group receives no government funding and depends entirely on donations and volunteers.  Trained volunteer guardians accompany veterans on these trips to provide assistance throughout the day. Volunteers with the organization also work to raise funds, to coordinate communication with participatants, to provide necessary training and medical supervision, and to oversee all transportation, activities and meals in Washington D.C. The group is dedicated to providing these flights as long as they have means to do so. Freedom Honor Flight is part of the National Honor Flight Network, which now has flight hubs in over 125 cities across the country.
For more information on this local group and to find out how you can get involved as a donor, volunteer or participant, check out their displays at any one of our three La Crosse Public Library locations all through the month of April 2019.
To learn more about Freedom Honor Flight, please email info@freedomhonorflight.org, call (608) 784-1015, or visit their website at freedomhonorflight.org.
Visit the Freedom Honor Flight website
Follow Freedom Honor Flight on Facebook
Information and Participation Applications for Veterans and Volunteers
Donate to Freedom Honor Flight