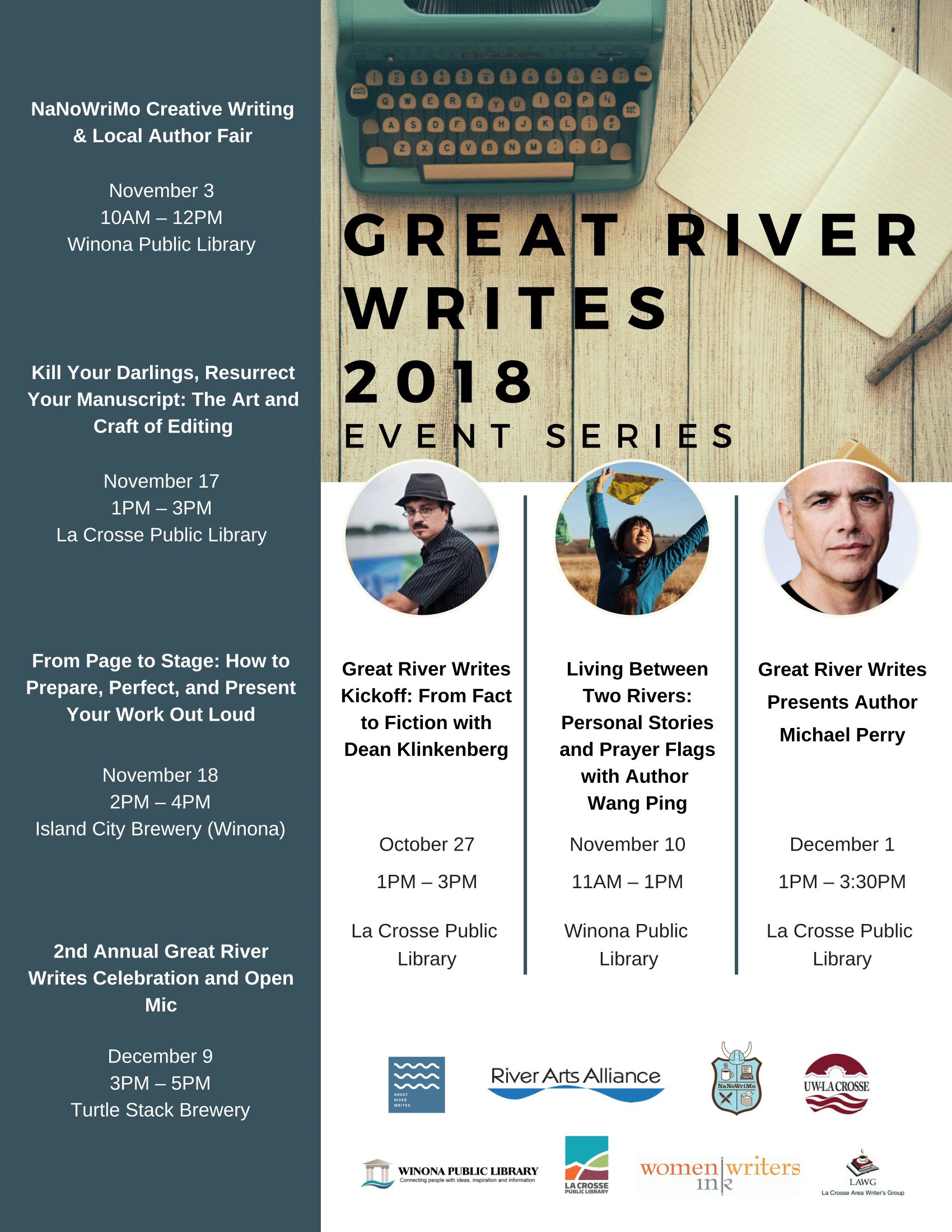 The Great River Writes is holding its 2nd annual writing series to inspire local writers of all levels. In conjunction with National Novel Writing Month, public libraries and literary organizations in La Crosse and Winona will host writing workshops and author chats every Saturday from October 27 through December 1, with a special celebration and open mic on Sunday, December 9. 

Community write-ins, craft talks, and expert tips support both published and yet-to-be-published writers of novels, poems, short stories, and more. Guest authors visiting this year include Dean Klinkenberg, Wang Ping, and Michael Perry. Check out the full schedule of events below.
Great River Writes is a partnership between the La Crosse Public Library, Women Writers Ink,  the Winona Public Library, the River Arts Alliance, the UW-La Crosse English Department, the La Crosse Area Writer's Group, and National Novel Writing Month.
Great River Writes Kickoff: From Fact to Fiction with Dean Klinkenberg
Saturday, October 27, 1-3 PM at the Main Street Library (800 Main Street, La Crosse)
Join us for the kickoff to this year's Great River Writes.  We'll be joined by author Dean Klinkenberg for a talk about his writing process, his approach to writing fiction and nonfiction, and his recent book Rock Island Lines. Rock Island Lines is a mystery that plays with the idea of genealogy as destiny. The plot centers around a long-dead gangster, John Looney, and his legacy of violence and corruption. Klinkenberg spent hours researching Looney's life, the era, and his conspirators and enemies. He came to the story, though, long before he was thinking about fiction—he was researching a travel guide for the Quad Cities. Learn about his approach to writing fiction and nonfiction, how they are inextricably linked and how it is all made possible by the local archives where he spends much of his research time. What stories are hiding in your archives?
NaNoWriMo Creative Writing & Local Author Fair
Saturday, November 3, 10 AM-Noon at Winona Public Library (151 W 5th Street, Winona)
November is National Novel Writing Month (NaNoWriMo).  To celebrate, Great River Writes is hosting a writing fair at the Winona Public Library to celebrate area authors and the art of creative writing. Authors from La Crosse to Rochester will be at the fair. Stop by their booths, visit with them, and maybe pick up a copy of their book(s). Authors include: C.H. Armstrong, Wanda Bastian, Alice Benson, Sarah Chapman, Anthony W. Eichenlaubm, Janice Kirk, Ken McCullough, Lisa David Olson, C. William Perkins, Lori Reichel, Susan Cosby Ronnenberg, Andy Schoepp, Rod Starcke, Kathryn Sullivan, Ryan Witt, and Christy Wopat.
In addition to visiting with the local authors, check out these 20-minute writing workshops:
10:00AM:  Finding Humor for Your Writing
10:30AM: Writing Short Stories in Science Fiction and Fantasy 
11:00AM:  Author Voice in Nonfiction 
11:30AM: Getting Published
Living Between Two Rivers: Personal Stories and Prayer Flags with Author Wang Ping
Saturday, November 10, 11 AM-1 PM at Winona Public Library (151 W 5th Street, Winona)
Poet, essayist, and performance artist Wang Ping will read from her new book of essays, Life of Miracles Along the Yangtze and the Mississippi, a collection which won the Association of Writers and Writing Programs 2017 Award for Creative Nonfiction. For writers and fans of personal stories, memoir, and dual identities, Ping will explore the power of these along with how to use landscape in shaping our view of 'home.' She will follow the reading with a prayer flag workshop.
Kill Your Darlings, Resurrect Your Manuscript: The Art and Craft of Editing
Saturday, November 17, 1-3 PM at the Main Street Library (800 Main Street, La Crosse)
Once you've spent a month (or eleven years) reaching the end of your manuscript, it's time to get to work. Many scientists conclude that 88.3 percent of a professional writer's time is devoted to the art of revision. One crucial aspect of revision, editing, can give your manuscript the makeover it needs to transform it into a publishable form. In this interactive workshop, we will discuss seven key editing strategies that will help you inject your language with life, ruthlessly kill the dead spots, and create beginnings that will arrest your readers' attention. We'll share examples, offer a live real-time editing demonstration, discuss ways to create strong beginnings, and see where our conversations take us. Participants are invited to bring the first page of a work in progress. 
From Page to Stage: How to Prepare, Perfect, and Present Your Work Out Loud
Sunday, November 18, 2-4 PM at the Island City Brewery (65 E Front Street, Winona)
Lots of writers can pen a good story, but sharing it in front of others? If that sounds scary, or you're looking to boost your skills, join us at the Island City Brewery learn how to read out loud from our expert panelists. Get tips from storytelling, improv, acting, as well as traditional and slam poetry. Hear examples, ask questions, find new tools to try, and if you're feeling brave, take a shot at sharing your own work with feedback from our panelists.
Population 485: Staged Reading
Friday, November 30, 7-9:30 PM at the Weber Center (428 Front Street S, La Crosse)
Join Great River Writes for this free staged reading of the new play adapted from Michael Perry's bestselling memoir Population 485: Meeting Your Neighbors One Siren at a Time. 
Great River Writes Presents Author Michael Perry
Saturday, December 1, 1-3:30 PM at the Main Street Library (800 Main Street, La Crosse)
Michael Perry is a New York Times bestselling author, humorist, playwright, and radio show host from New Auburn, Wisconsin. Perry's bestselling memoirs include Population: 485 (recently adapted for the stage), Truck: A Love Story, Coop, Visiting Tom, and Montaigne in Barn Boots: An Amateur Ambles Through Philosophy. Among his other dozen titles are The Scavengers (for young readers) and his novel The Jesus Cow. He hosts the nationally-syndicated Tent Show Radio, performs widely as a humorist, and tours with his band the Long Beds. In this open Q & A, Perry will share his path into writing, how to make a living as a freelancer, talk about writing in multiple genres, and probably segue into some funny stories.
2nd Annual Great River Writes Celebration and Open Mic
Sunday, December 9, 3-5pm at the Turtle Stack Brewery (125 2nd Street S)
You've worked hard on your writing, you've practiced new skills, you've added to that wordcount goal, now it's time to celebrate. Come hang out with and cheer on your fellow writing community at this open mic and social at the Turtle Stack Brewery! Bring your friends and loved ones and meet area writers. Food is provided, and drinks are available for purchase. Open mic readings will start at 3:30pm, and all are welcome to share a 5-10 minute portion of their work.