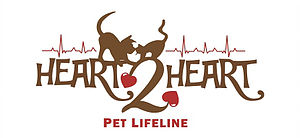 This month our featured nonprofit is Heart2Heart Pet Lifeline. This area nonprofit organization grants financial assistance to help provide veterinary care to income-eligible pet families in La Crosse County. Heart2Heart partners with the Coulee Region Humane Society and works with area veterinarians, social service organizations, and homeless advocates to identify pet owners unable to pay for unplanned veterinary care for their pets.
Heart2Heart Pet Lifeline was formed in 2017 with the mission of keeping pets out of shelters and rescues by helping owners keep them in their loving homes. In their first full year of operation this organization provided $15,000 in grants to local pet owners through the Coulee Region Humane Society, helping to keep 27 cats and 18 dogs with their families. Grants averaged about $350 per family in need. In 2019, more than 50 families have already received support from this local organization to help keep their pets a part of their home.
Pet Lifeline is an all-volunteer 501(c)3 nonprofit organization funded entirely through tax deductible donations. For more information on how to donate to this group, please visit their website or Facebook page.
Grants for income eligible families needing veterinary care for their pets is provided through the Coulee Region Humane Society. Grants are awarded based on the financial need of the owner, a qualifying veterinarian diagnosis, and the demonstrated capability of the owner(s) to take responsibility for his/her/their animal. Complete eligibility guidelines and application can be found on the Heart2Heart website.
To learn more about Heart2Heart Pet Lifeline, please email h2hpetlife@gmail.com or visit their website at www.heart2heartpets.org.
Visit the Heart2Heart Pet Lifeline Website
Follow Heart2Heart Pet Lifeline on Facebook
Grant Eligibility and Application Information