You are here
While military operations were going on all over the world, the people of La Crosse County were doing their part for the war effort. Local industries had switched from consumer goods to war material. With so many men in the armed forces, many jobs formerly performed by them were now done by women. Everyone had to deal with rationing of gasoline, rubber, food, and other essentials. The war touched almost every facet of life in some way or another.

Previous feature articles
1945 September 10-16
The Price Fixers

(La Crosse Tribune, 1945 September 12, page 1)
This week brought the news that the La Crosse district office of the Office of Price Administration would close by the end of the week. The Office of Price Administration was one of the most important government agencies during World War II because it impacted the lives of every American.
The need for economic controls on a wartime economy had been demonstrated during the First World War. From July 1914 to May 1920, the cost of living for American families increased by 108.4 percent.[1] The government took steps to ensure that would not happen during World War II.
The Office of Price Administration was created by President Franklin D. Roosevelt's executive order on April 11, 1941, before the United States even entered World War II. Its objectives and functions were:
maintaining price stability to prevent inflation due to wartime scarcities
protect consumers from price gouging
setting maximum prices for commodities
setting maximum rent prices in areas close to military bases and war production plants
administer the rationing program for food, clothing, gasoline, and other consumer products
oversight of local rationing boards
issuing billions of ration stamps[2]

With war already raging in Europe and the Pacific, another purpose of the OPA was to discourage hoarding.[3] When a crisis looms, the natural tendency of people is to stock up on supplies just in case things get so bad that they cannot get what they need. A prime example was earlier this year when toilet paper, hand sanitizer, and some cleaning supplies disappeared from store shelves because of COVID-19.
In early 1942, with the United States now in the war, rapid price increases were elevating the cost of living. To prevent runaway inflation, the OPA froze retail prices and rents using March 1942 as the benchmark.[4] The OPA froze prices on about 60 percent of food items.  There was some scarcity because of the needs of the military and American allies, so this action prevented inflationary food prices.[5]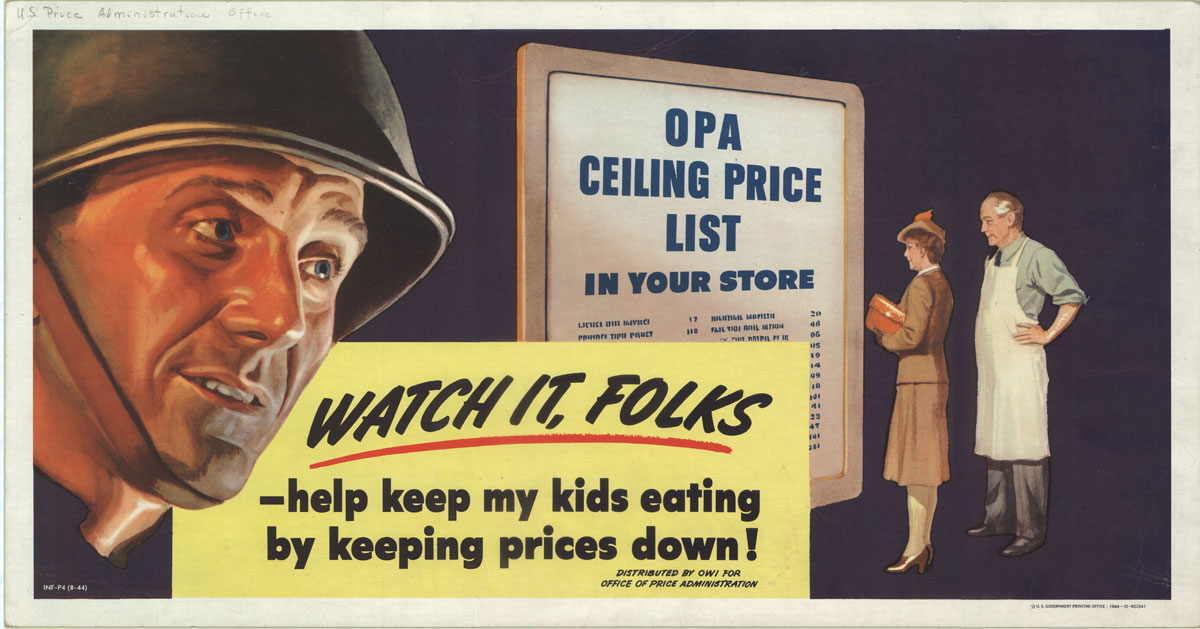 (Historical Museum of Fort Missoula)
Rationing was another tool employed by the OPA. Tires, sugar, coffee, gasoline, meat, butter, and canned goods were rationed. Ration books went out to every American to help allocate scarce commodities. The OPA later used a point system to give consumers more choice in when they purchased certain items.[6]
The OPA directed about 5,500 local rationing boards made up of volunteers, but it also became a large bureaucracy that was not always viewed kindly by the populace who lived under its rules. Rationing and price controls were so vast and complex that the OPA had more than 60,000 full-time employees to take care of it all.[7]
The OPA was effective in controlling inflation. From 1942 to 1945, consumer prices rose nine percent.[8]
The reach of the OPA even extended into fashion. Women's skirts had to be above the knee, and swimsuits became two-piece to conserve cloth. Men's suits had narrow lapels, short jackets, no cuffs, no vests, and just one pair of pants for the same reason. Patched clothing became a patriotic fad.[9]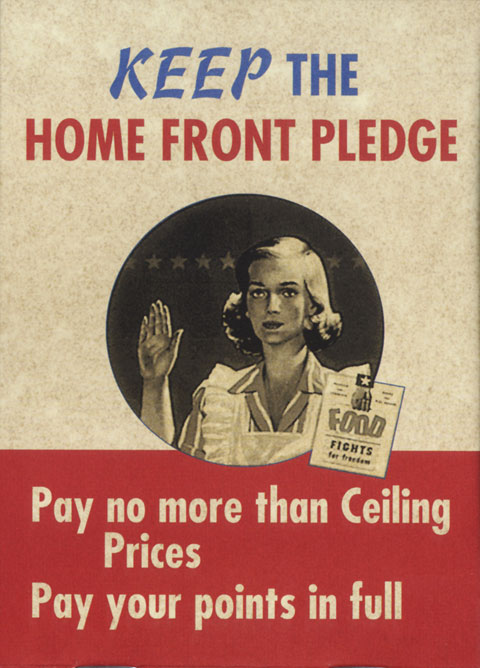 (ibiblio.org)
Phil H. Griffin was the owner and operator of a drug store in Ladysmith when he came to La Crosse in April 1943 to run the La Crosse district  OPA office.[10] The OPA district office in La Crosse operated for almost two-and-one-half years. The 120 employees, with a total payroll of $400,000 per year, administered rationing and price controls in 16 Wisconsin counties, five Minnesota counties, and two Iowa counties. An average of 275 people visited the OPA office every day to conduct business with the agency. [11] The La Crosse district office supervised rent control offices in Sparta, Eau Claire, and Rochester, as well as 163 clerks on 23 local rationing boards.[12]
Local rationing boards were supported by volunteer panels administering various commodities. In La Crosse County, there was a tire panel, an automobile panel, a gasoline panel, a fuel oil panel, a food panel,  a shoes and boots panel, and a price panel.[13]
La Crosse County residents who wanted to apply for rationed commodities could pick up application blanks at several locations:
Mindoro-Fishers Service Station
Bangor-Municipal Utilities Office
West Salem-Village clerk's office
Onalaska-City clerk's office
Holmen-Bank of Holmen
La Crosse (north side)-Wittenberg's Cigar store
La Crosse (south side)-Bodega Lunch Club[14]
 
Prices for many goods were strictly controlled. The price panel recruited volunteers to check prices in stores to make sure price ceilings were being followed.[15] Every retailer of apparel, dry goods, and house furnishings had to prepare a pricing chart showing the cost and selling price of all goods and submit it to the OPA district office in La Crosse.[16]
The La Crosse district had two counties that were under rent control: La Crosse County starting on December 1, 1943, and Monroe County (home of Camp McCoy) starting on November 1, 1942. Landlords had to register their properties with the area rent office in La Crosse and charge no more than they had been charging on March 1, 1942, for their rental units.[17] Tenants could recover "up to treble damages or $50, whichever is greater" for overcharges in rent.[18] Rent control continued in both counties even after the La Crosse district OPA office closed.[19]
Out of the 93 OPA districts in the country, the La Crosse district office was the first one to have a woman as the chair of its labor advisory committee. Mary P. Samb, 2522 East Avenue South, was elected to that post in February 1945. Samb grew up at Hokah, Minnesota, on a farm and then attended the La Crosse Vocational and Adult School. She married Roy E. Samb, an employee of the Electric Auto-Lite Company, and they had three children. Mary Samb headed an advisory committee made up of representatives of the American Federation of Labor, Congress for Industrial Organization, and railroad unions.[20]
(La Crosse Tribune, 1945 February 18, page 7)
When people did not follow the rules and regulations, the OPA took action.
Griffin declared the OPA operation a success for the nation's taxpayers. The La Crosse office was rated as one of the top district offices in seven Midwestern states. One achievement he cited was a reduction in food prices during the last year.[28]
When the war ended, reorganization of the homefront bureaucracy, including the Office of Price Administration, was inevitable. About half of the paid clerical help was given a 30-day notice of their termination before the end of August 1945.[29] Now in early September, the whole office was being closed, with its records and furniture being dispersed to other offices.  At least forty of the 120 La Crosse employees accepted transfers to OPA offices in Green Bay, St. Paul, Milwaukee, and Chicago.[30]
Although  the L Crosse district OPA office closed, its functions continued. The county war price and rationing board was in Room 303 in the Hoeschler Building. The rent control office for the area was in Room 518 of the Exchange building. The Milwaukee district office of OPA assumed overall oversight for western Wisconsin.[31]
The Office of Price Administration continued to operate until it was abolished on May 29, 1947.[32]
In other stories this week:
Guest speakers for the Women's Civic Club in Bangor will be Lt. Jeanette Wolf, a nurse; David Morris, a veteran of Tarawa; and S.Sgt. Earl Severson, home on furlough from the South Pacific.
The La Crosse district office of defense transportation will close on September 21.
Robert A. Clough of 103 17th Place, La Crosse, spent 13 months in Europe with the Red Cross.
The Service Wives and Mothers Club elects new officers for the coming year.
See more HERE
Jeff Rand
Adult Services Librarian
La Crosse Public Library
jrand@lacrosselibrary.org
Sources & Notes:

1945 September 3-9
Semper Paratus in La Crosse
Semper Paratus, "Always Ready," is the motto of the United States Coast Guard.[1] Even though La Crosse County does not have a traditional coast in the sense of being on the ocean, inland waterways are also under the purview of the Coast Guard.  La Crosse had a temporary Coast Guard reserve unit during World War II that carried out duties at home while regular Coast Guard personnel were sailing in supply and troop transport convoys overseas and landing soldiers and supplies on beachheads.[2]
(La Crosse Tribune, 1945 September 9, page 11)
The Coast Guard Reserve was authorized by Congress on February 19, 1941. It included Regular Reservists and Temporary Reservists. Those in the Temporary Reserve, such as the La Crosse unit, were unpaid volunteers. During World War II, there were 125,000 men and women in the Temporary Reserve. [3]
In La Crosse, the Coast Guard Reserve unit was organized and led by Russell E. Aldrich.[4]
Russell Everett Aldrich was born July 16, 1908, at West Salem, Wisconsin.[5] His parents were Howard and Mary (Moran) Aldrich.[6] Russell Aldrich graduated from Onalaska High School, and then he attended La Crosse State Teachers College[7] starting in 1928 before leaving a couple of years later to enter the labor force.[8]
Aldrich began his career in business in 1936 when he opened the Aldrich Standard Service station at 10th and Main streets in La Crosse.[9]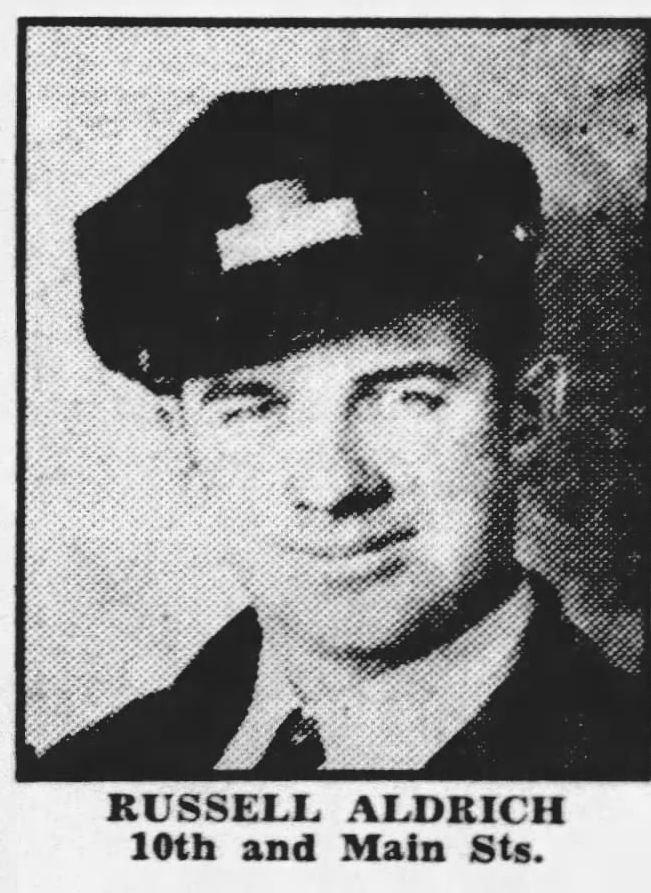 (La Crosse Tribune, 1938 December 4, page 5)

Detail from a 1939 complimentary calendar
(eBay)
Russell Aldrich married Dena Rauk on August 14, 1938, in Taylor, Wisconsin.  Dena Rauk had been a teacher in the Webster Elementary School in La Crosse for the three years prior to their marriage. They made their home at 2021 Madison Street in La Crosse.[10]
Dena's brother, Karl Rauk, was a graduate of the West Point Military Academy and a pilot with the Army Air Force during World War II.[11]
During World War II, Russell Aldrich found another way to serve. Before the war, he had an interest in boating. In 1937, Aldrich was supposedly the first person in La Crosse to own a sailboat.[12] It was fitting for him to become the leader of the local Coast Guard Reserve.
The La Crosse unit was part of the St. Louis Ninth Naval District. The unit consisted of business and professional men who volunteered to be part-time reservists in the Coast Guard. As more regular Coast Guard men were needed on the battlefront, the responsibilities of the Temporary Reserve increased. By the fall of 1943, a "uniform system of class instruction and training" was being developed.[13]
As the war demanded even more manpower, the Coast Guard Reserve started recruiting women in early 1944. The SPARS was open to women over the age of 18 who were willing to volunteer at least 12 hours per week to doing office work such as record keeping. After two classes per week for five weeks, the women would be issued a uniform and be attached to a Temporary Reserve unit.[14]
The first official inspection of the La Crosse unit by regular Coast Guard officers was in September 1944 at the YMCA gymnasium. Captain Roger C. Heimer from the St. Louis district office awarded certificates to all members and also presented certificates of merit to unit commander Ensign Russell Aldrich and Chief Petty Officer Frank H. Griffin for 600 hours or more of service. Heimer and Commander J. H. Kimberly of Washington D. C., assistant director of the Coast Guard Auxiliary and Temporary Reserve, performed the inspection.[15]
(La Crosse Tribune, 1945 January 27, page 8)
Some of the responsibilities taken over by the Temporary Reserve revolved around safety. Promoting safe boating by civilians was one of them.[16] Organizing search parties for missing persons was another one.[17] When the Black and Mississippi Rivers flooded in early 1945, the Coast Guard Reserve was available to help with evacuations.[18]
The Coast Guard Reserve also participated in parades for Memorial Day and Flag Day.[19]
(La Crosse Tribune, 1945 May 31, page 20)
Now in September 1945, with the war over, the temporary Coast Guard Reserves were being disbanded.[20]
But it was just the beginning of Russell Aldrich's business and civic service to the community.
Aldrich continued operating the Standard Oil service station at 10th and Main streets until he sold it in 1954. That is when he became part-owner and manager of Culligan Soft Water Service.[21] In 1963, Aldrich was elected as a director of the Water Conditioning Association International.[22] He retired from Culligan in 1974.[23]
In 1957, Aldrich was elected to the La Crosse County Board of Supervisors. He was re-elected two more times.[24]
He was involved in a long list of civic, fraternal, religious, social, and recreational organizations, including the Kiwanis Club (president and district governor), Friends of the La Crosse Public Library (president), La Crosse County Historical Society, Greater La Crosse Area Chamber of Commerce, Red Cross, Boy Scouts, YMCA, the Elks Club, La Crosse Ski Club, La Crosse Country Club, First Congregational Church, and the Masons.
Aldrich was also involved in fundraising campaigns such as the March of Dimes and the United Fund (chairman).[25] His work raising funds for the YMCA earned him the right to be "one of two people who turned the first shovelful of dirt before construction of the YMCA building at West Avenue and Main Street."[26]
Boating, especially sailing, was his main recreational passion. Aldrich was a charter member and past commodore of the La Crosse Yacht Club. Along with Tom Markos, he founded the La Crosse Sailing Club in 1948. Besides sailing on Lake Onalaska, Aldrich frequently sailed in Lake Michigan and the Caribbean.[27]
Even though he did not finish college, Aldrich was a lifelong learner. After he retired in 1974, he audited classes (attended but was not tested or graded) at the University of  Wisconsin-La Crosse with several of his friends.[28] Over the course of 39 semesters, Aldrich earned 145 credits. He was honored for that achievement at the University of Wisconsin-La Crosse Maurice O. Graff Distinguished Alumni Awards ceremony in May 2000.[29]
Aldrich and his wife left a legacy of two scholarship funds at UW-La Crosse. One is the Dena Rauk and Russell E. Aldrich Scholarship Fund in Special Education.[30] The other is in memory of their daughter, Tamzin Aldrich Esposito.[31] Esposito died in October 1985 at the age of 44 and is buried in Oak Grove Cemetery.[32]
Dena Aldrich died on January 27, 2001. Russell lived just a little more than a year after his wife passed away. Russell Aldrich died on May 18, 2002, at the Bethany Riverside Nursing Home. He was 93 years old. The Bethany Riverside staff wrote: "We will miss Russell's bright smile and his charm. He was a true gentleman. He loved to sit and talk with others. We were in awe of his vocabulary; he continued to educate us with his words. Russell was a special man who is going to be missed . . ."[33]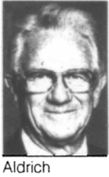 (La Crosse Tribune, 2002 May 26, page C1)
(Find a Grave.com)
A simple gravestone in Oak Grove Cemetery marks the final resting place for a man who was always ready to do whatever it took to make his community a safer and better place to live.
In other stories this week:
Mr. and Mrs. Willy Tollark, German refugees who have lived in the United States for almost five years and now reside in Winona, are visiting La Crosse. As newspaper correspondents, they traveled throughout Europe and most of the states in the United States.
Also visiting La Crosse are two Royal Air Force pilots who are hitchhiking around the states before heading home from their training base in Canada. They praise the friendliness of American people in small towns and especially the American Legion.
A correspondent for the Bangor Independent encourages people to write frequent, cheerful letters to men and women overseas to relieve boredom and lift spirits of those awaiting their turn to come home. 
Red Cross sewing and knitting will continue at West Salem because of the need for clothing by occupation troops and war refugees.
Military Service club girls still go to Camp McCoy every Tuesday night for dances.
The S.S. La Crosse Victory is bringing home veterans from Europe.
See more HERE
Jeff Rand
Adult Services Librarian
La Crosse Public Library
jrand@lacrosselibrary.org
Sources & Notes:
1945 August 27-September 2

Labor Produced a Victory
 
The originator of Labor Day is disputed, but the first Labor Day celebration was done by the Central Labor Union in New York City on September 5, 1882.  Some cities established municipal ordinances to honor workers in 1885 and 1886. The first state law for a labor day observance was passed in Oregon on February 21, 1887. On June 28, 1894, Congress passed an act making the first Monday in September a national holiday to honor workers.[1]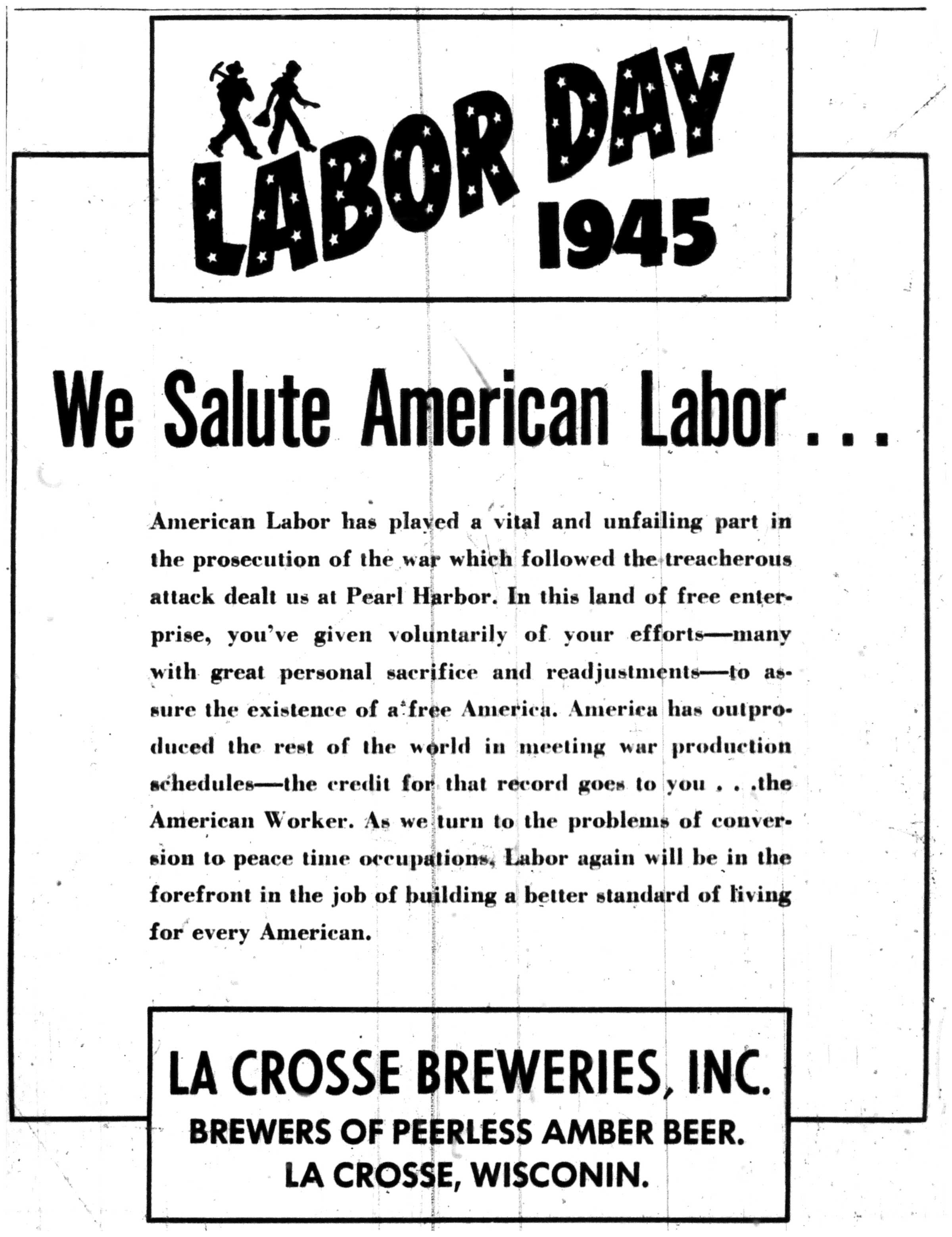 (La Crosse Tribune, 1945 September 2, page 8)
This Labor Day had special significance because it coincided with the end of the most destructive war in human history. It was American labor, the men and women in the factories, shops, shipyards, and farms, that were a big part of bringing about the victory of the Allied nations against Germany and Japan.
The statistics provide ample evidence:
American industry manufactured almost two-thirds of all Allied military equipment
American factories made 297,000 aircraft, 193,000 artillery pieces, 86,000 tanks, and 2,000,000 army trucks
After the Battle of Midway in June 1942, Japan built six new aircraft carriers; the United States built 17
The Ford Motor Company plant at Ypsilanti, Michigan, completed a B-24 Liberator bomber every 63 minutes; each of these airplanes had 1,550,000 parts
The United States launched more new ships in 1941 than Japan did in the entire war
The United States built more airplanes in one year (1944) than Japan did from 1939 to 1945
Twenty-four million people moved to work in defense industry jobs
"By the end of the war, more than half of all industrial production in the world would take place in the United States."[2]
A Douglas aircraft factory in California finished a new airplane every hour
American workers produced 15 million guns, more than 20 million helmets, and 165 million military coats
In 1944, American steel mills were producing 89 million tons of steel
Coca-Cola made more than 5 billion bottles and cans of their soft drink for the troops
The Hershey Company turned out 24 million chocolate bars a week for soldiers' rations
More than 9 million farmworkers cultivated more than a billion acres of land to produce food for the United States and its allies[3]
American farmers produced 22% more food in 1945 than in 1940; food grain production increased by 50%[4]
American industry employed 17.5 million workers to produce $136 billion in war supplies
This included 43,000,000,000 rounds of ammunition, 43,400,000 bombs, 196,000,000 uniforms, and 98,000,000 pairs of shoes[5]
 
(La Crosse Tribune, 1945 September 1, page 3)
This advertisement by Erickson Bakers rightly celebrates the contribution of labor to victory in World War II. But "American Labor" was still portrayed as a male-dominated field, despite the number of women in the workforce. Women made important contributions to the labor force during the war.
Eight million women became part of the nation's workforce during the war[6]
By 1943, women made up almost one-third of the American workforce[7]
There was an organization called Women Ordnance Workers (WOWs)[8]
About two million American women worked in defense industries[9]
Women made up 36% of the labor force in the aviation industry[10]
Women were 10% of shipyard workers by 1944[11]
The number of black women in industry increased by 11.3% during the war[12]
Women also carried the load in a host of volunteer capacities on the home front
 
Labor has always been one of the components of this country's greatest achievements, and Labor Day 75 years ago was one of the best examples in our nation's history.
In other stories this week:
The American Legion holds a dance for servicemen and veterans of World War I and World War II. Many men of the 32nd Infantry Division, just back from three years in the South Pacific, are in attendance.
The Ordnance Service Command shop in La Crosse is winding down its work repairing and refurbishing military vehicles.
Florence Fujika of Honolulu just completed a six-week session at La Crosse State Teachers College while living with Mrs. M. Aspenson at 1722 State Street. She has friends and relatives who got to know La Crosse while training with the 100th Battalion at Camp McCoy.
Two British air force pilots stop in La Crosse while hitchhiking across the United States.
The Red Cross surgical dressing station in West Salem closes.
The Office of Price Administration in La Crosse will reduce its workforce by 50%.
A weekly family event is watching the trains arrive at the La Crosse railroad depot loaded with servicemen on their way home.
See more HERE
 
Jeff Rand
Adult Services Librarian
La Crosse Public Library
jrand@lacrosselibrary.org
2020 September 6
Sources & Notes:
1945 August 20-26
How Tin Cans Helped Win The War
The lowly tin can, or more properly the steel can with a tin lining has never invoked much respect. But during World War II, it was considered a valuable raw material for the war effort.
(Recycle Coach)
The tin can was created out of another wartime necessity 150 years prior to 1945. France was fighting wars in several countries in Europe and the Caribbean in 1795. Feeding soldiers and sailors far from home relied on preserving food with methods that were imperfect. The government of France offered a cash prize to anyone who could come up with a better way. Nicolas Appert, a French chef, packed food in champagne bottles sealed with cheese and lime. Appert refined his idea with other glass containers that were tried by the French navy starting in 1803. The following year, his factory started putting meat in tin cans that were soldered shut. Because there was no can opener at the time, the lids had to be chiseled open or pierced with bayonets to open the cans. Appert won the prize and published his innovation in 1810.[1]
Tin was an important material for the military. The United States had even larger armies and navies spread out all over the world that relied on tin in a multitude of ways.
Tin-coated steel cans fed most military personnel overseas. Food acids corrode most metals, but not tin. Tin cans were the most durable and safe containers for shipping food to where it was needed. The "10-in-one" K ration would feed ten men for one day. Each of those packages contained seven tin cans of food. Life rafts were stocked with square tins containing hard candy, chewing gum, and vitamin pills to sustain shipwreck survivors.  One man was supposed to be able to live on this for five or six days. [2]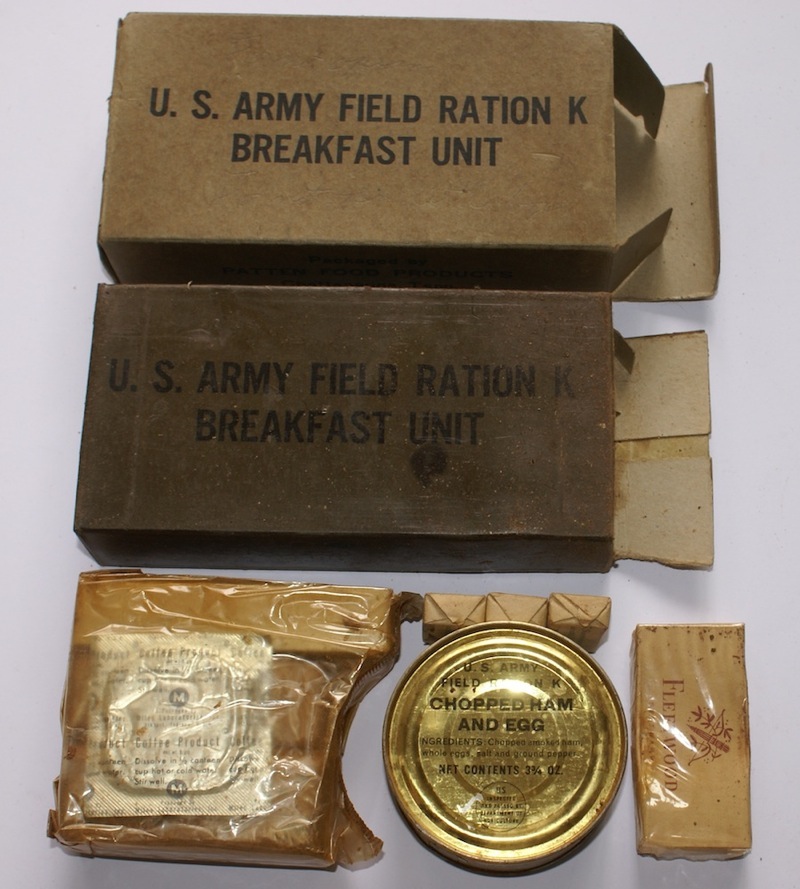 World War II Army K Ration
(kration.info)
Medical supplies also relied on tin packaging. Tin was used as containers for sulfa ointment and blood plasma, and it was the main component of individual morphine hypodermic syringes.[3]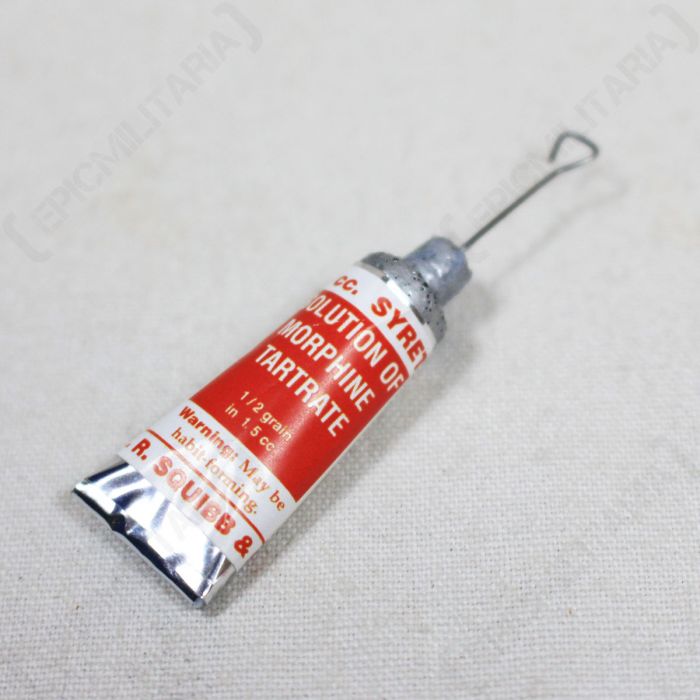 Morphine syrette
(Epic Militaria)
Tin was important in military hardware. Each battleship built required seven tons of tin.[4] The United States built 10 battleships during the war.[5] Every submarine built needed more than three tons of tin.[6] The United States built 87 submarines during the war.[7] Just the electrical systems alone of each destroyer consisted of 490 pounds of tin.[8] The United States built almost 400 destroyers during the war.[9] Every medium tank needed three pounds of tin.[10] Multiply that by the 41,530 medium tanks built by the United States during the war.[11] The list goes on: five pounds of tin in every 1.5-ton Army truck, 13 pounds in every diesel engine, 48 pounds in every heavy bomber, and more tin in every airplane motor, as well as radar.[12]
It took a lot of tin to fight a world war; the problem was that the United States did not have any. Alaska, not yet a state, had a small amount of tin ore. All of the rest of the tin the United States consumed had to be imported. Before Pearl Harbor, that meant imports from the tin mines in Malaya, Sumatra, and the Dutch East Indies.[13] In 1937, the United States imported 338,240 pounds of tin ore. Imports of tin bars, blocks, and pigs amounted to 111,326,000 pounds in 1938.[14] After Pearl Harbor, the Japanese controlled all of that area.
Tin was classified as a strategic material, that is one that could only be obtained from overseas and whose supply could be curtailed by war.[15]  Shut off from its main source of tin, the United States resorted to rationing, salvage, and recycling.  One effect of food rationing was to reduce the number of cans needed for packaging domestic food supplies.  Victory Gardens produced vegetables that could be eaten fresh or canned in glass jars. People on the home front had regular collections of tin cans and toothpaste tubes to recycle the tin in them. In 1944 alone, salvage drives collected 187,283 tons of tin cans and collapsible tubes.[16] Alberta Gund of La Crosse remembers crushing tin cans for local salvage and recycling all four years she was attending Aquinas High School.[17]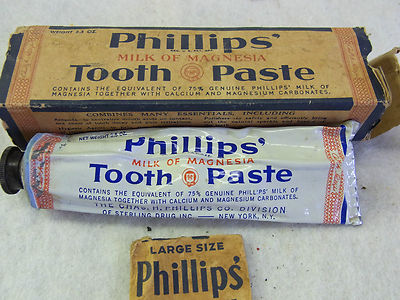 Toothpaste tube made out of tin
(AntiqueNavigator)
As the war went on, the enthusiasm for salvaging tin in the city of La Crosse waned. Tin can collections in 1945: (pounds)
January = 80,000
February = 62,000
March = 58,000
April = 36,000
May = 21,000
June = 39,000
July = 24,000
In August 1945, E. E. Tippey, district salvage chief for the war production board, warned that there was still a great need for tin. It would take at least two years to put tin mines back into production overseas, and the United States had "less than nine months' supply of tin on hand."[18]
Even after the Japanese surrendered, tin, as well as waste paper, salvage and collection continued.[19]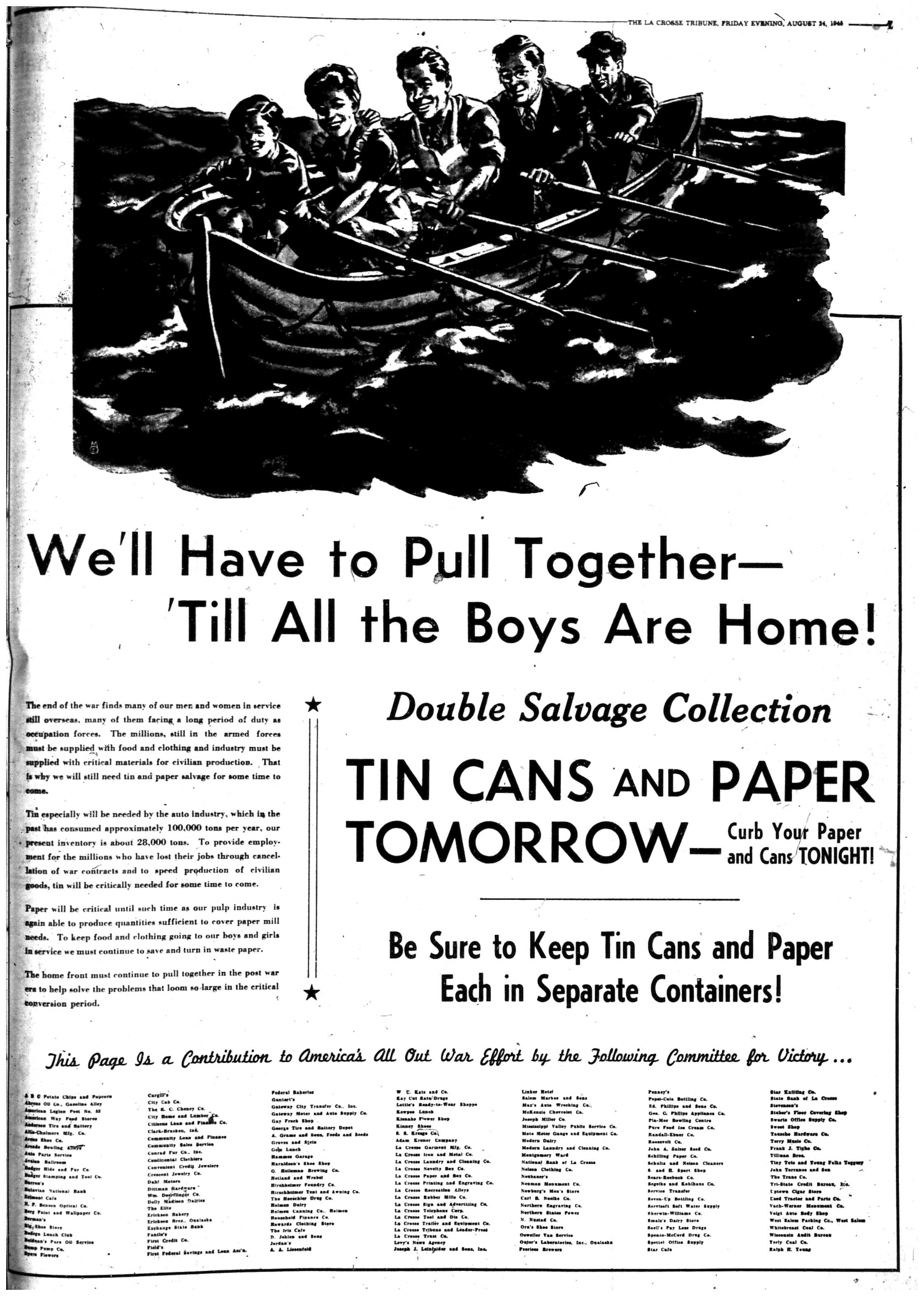 (La Crosse Tribune, 1945 August 24, page 7)
There was another incentive to continue collecting tin. As the public service advertisement above points out, the automobile industry required about 100,000 tons of tin every year. That had changed during the war with car makers producing Army vehicles, tanks, and airplanes instead. Now that production of civilian goods was resuming, manufacturing new automobiles required tin.
The tin can---essential in war and peace.
In other stories this week:
Gasoline rationing ends, so vehicle traffic increases as people take to the roads at will for the first time in four years.
Chaplain Bruce Matthews, who was taken prisoner in Europe in December 1944, will speak at the Church of Christ, 8th and Cass streets.
Despite layoffs due to the termination of war contracts, there are a large number of job openings in La Crosse County.
The Military Order of the Purple Heart organizes a chapter in La Crosse.
Chaplain Ryan McCoy, a veteran of the European Theater, will speak at the next meeting of the Kiwanis Club.
The rationing office in West Salem closes.
La Crosse and Monroe counties are still under rent control.
See more HERE
Jeff Rand
Adult Services Librarian
La Crosse Public Library
jrand@lacrosselibrary.org
Sources & Notes: