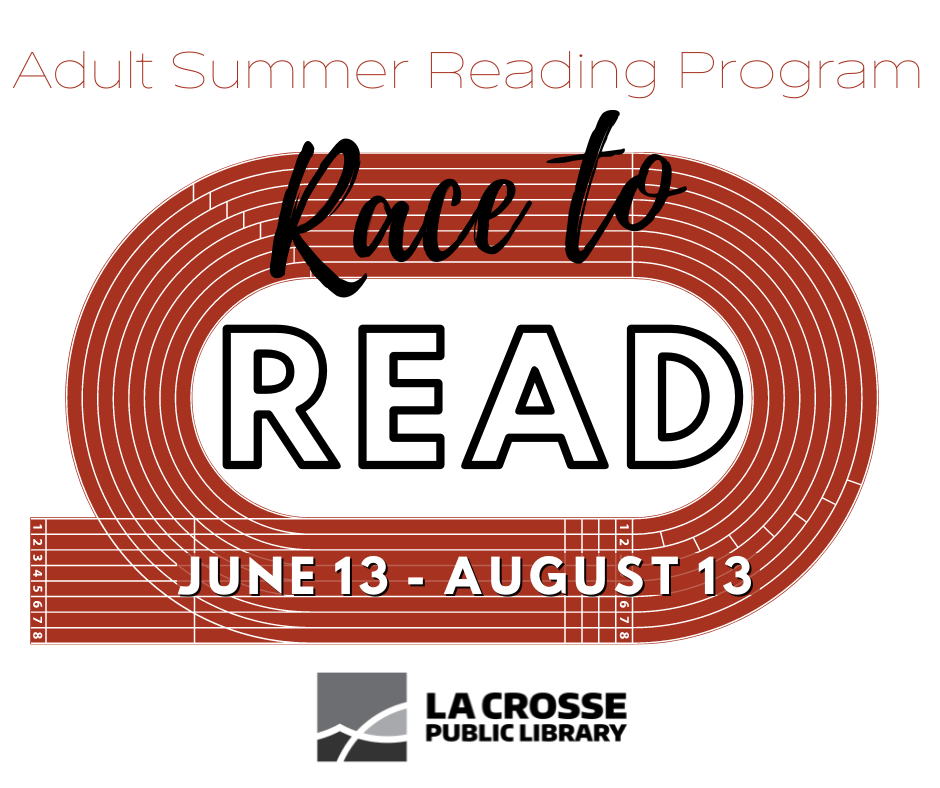 Adult Summer Reading Program: Race to READ  |  June 13 – August 13
Ever wanted to READ a marathon?  This summer, you can with the La Crosse Public Library Adult Summer Reading Program!  We're challenging adults 18+ to choose their race and read (or listen!) your way around the track: 
1 book = 5K
3 books = 10k
5 books = Half Marathon
10 books = Marathon
 
How do I participate in the Adult Summer Reading Program?
To sign up, visit any LPL location and pick up a Race to Read form or register online.  Submit your completed Race to Read form by August 13th to be entered to win fabulous prizes for every distance completed!
Prizes
For each race completed, your name will be entered into a drawing for:
(4) $25.00 Gift Certificates to Pearl Street Books
Merchandise featuring artwork from our latest Library Banner
 
Check out our suggested reading lists!
Looking for reading recommendations?  Check out our staff and patron picks.  Whether you select titles from our lists or your own books you've been waiting all summer to read, the goal of the Summer Reading Program is to experience the enjoyment of reading for pleasure, so have fun and happy reading!
Questions? Feel free to email us at programteam@lacrossepubliclibrary.org or ask for help at a service desk!
---

Stay connected and engaged with lifelong learning programs, book clubs, and special events from the La Crosse Public Library!
To see our full list of upcoming programs, take a look at our events calendar and our monthly newsletter!
Instructional Videos
Check out our YouTube Channel: LPL Connects, where you can find videos on featuring our lifelong learning programs, book recommendations, technology tips and more!
 
Do you have an idea for a library program?  Let us know!  Send your requests to: programteam@lacrosselibrary.org