You are here
The Japanese attack on Pearl Harbor on December 7, 1941, had ignited a wave of patriotism as men and women flocked to enlist in the armed forces. Men and women from La Crosse County found themselves all over the country and all over the world, courtesy of Uncle Sam. All did their duty, whether they spent the entire war stateside or took part in the fiercest combat in far-off places they had never heard of before. At home, their loved ones carried on while hoping for their safe return. More than a few families in La Crosse County received the dreaded telegram that began, "I regret to inform you . . ."

It was not unusual for families to be notified weeks, or even months, after their loved one was missing in action (MIA), wounded in action (WIA), or killed in action (KIA).

Previous feature articles
1945 September 10-16
"Another Marine Reporting, Sir"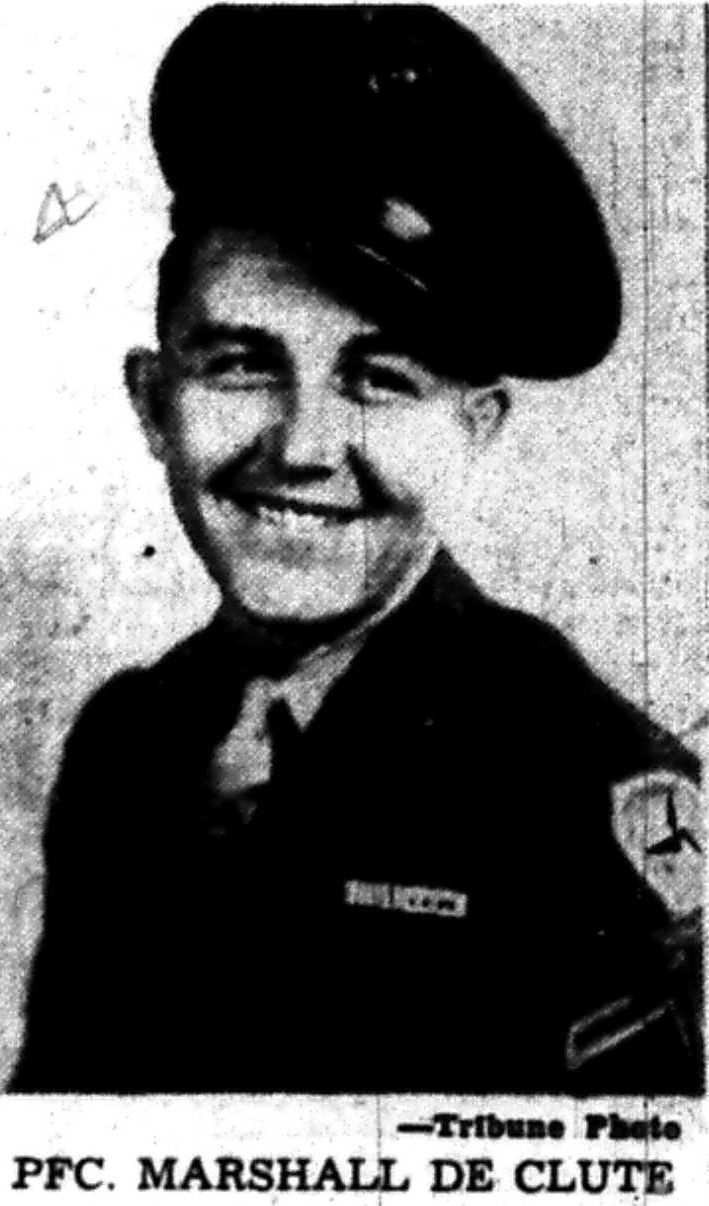 (La Crosse Tribune, 1945 September 16, page 14)
Private First Class Marshall De Clute was back in La Crosse in September 1945 after being discharged from the United States Marine Corps on September 6 at the Philadelphia Navy Yard. He was believed to be the first La Crosse marine to be discharged under the point system for the demobilization of the armed forces as World War II was ending. His 87 points, mostly accumulated from four campaigns in the Pacific Theater, were his ticket home.[1]
Marshall Miller De Clute was born in Milwaukee on December 2, 1918, to Silas Jacob De Clute.[2] His grandparents, as well as his father, were born in Michigan, but they were living in Chicago in 1900.[3] By 1910, twenty-one-year-old Silas De Clute was a fireman and living with his wife, Natalie, in Chicago.[4]
Sometime In the intervening 25 years, the family moved to La Crosse.
In 1935, Silas De Clute took a job as chief engineer for La Crosse Breweries, Inc.[5] By 1940, Marshall's parents had split up. Silas, now 50 years old, and his new wife, 30-year-old Henrietta, were living at 1234 Farnam Street in La Crosse with an eight-year-old son named William.[6] By April 1942, they had moved to 2211 Winnebago Street.[7]
Marshall De Clute was living on his own at 914 Market Street and employed as an "assembler."[8] He was working for Trane Company.[9]
When Marshall De Clute registered for the Selective Service in October 1940, he was five feet, nine-and-one-half inches tall, and weighed just 136 pounds.[10]
Despite his less than imposing physique, De Clute enlisted in the United States Marine Corps Reserve on April 27, 1942. After basic training in San Diego, California, he went overseas to New Zealand on February 15, 1943. After five-and-one-half months of training in New Zealand, his unit went to Guadalcanal, which was the base for the 3rd Marine Division.[11]
De Clute was a member of the signal company [communications] in the headquarters battalion of the 3rd Marine Division.[12]
3rd Marine Division shoulder patch
(MilitaryVetsPX.com)
His first action with the 3rd Division was the invasion of Bougainville in the Solomon Islands in November 1943.[13]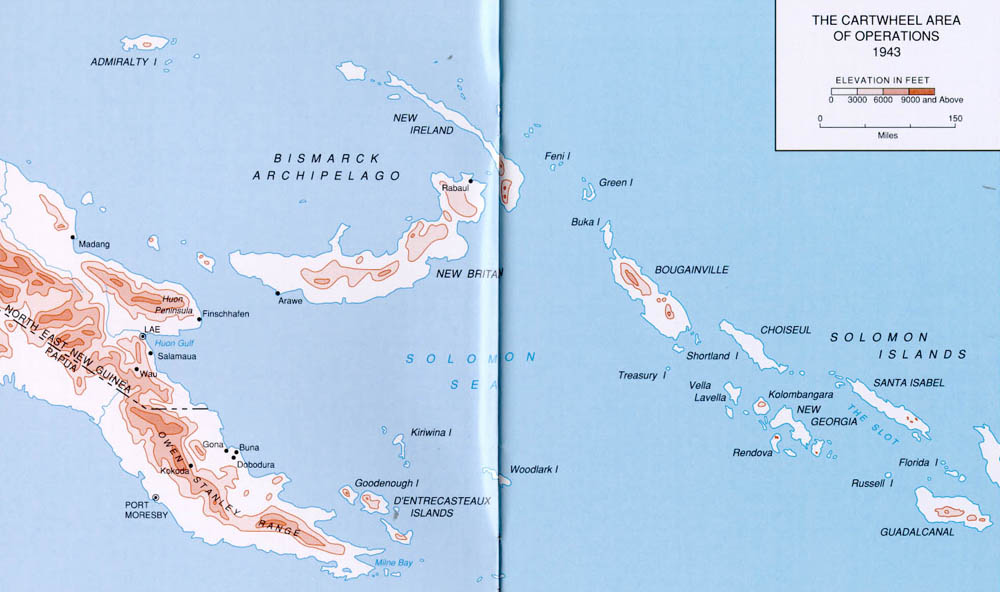 (U.S. Army Center of Military History)
Bougainville was the northernmost of the Solomon Islands. With mountainous terrain covered by dense jungle, Bougainville was strategic because it was home to five Japanese airfields. The Americans wanted airfields on the island because it would put them within 210 miles of the huge Japanese base of Rabaul. The 3rd Marine Division landed on November 1 against light opposition because of a Marine Raider landing on nearby Choiseul Island a week earlier that diverted Japanese troops. The Marines, along with the Army's 37th Infantry Division, fought a grueling campaign until December 28th when they turned over mopping up duties to the Army. The 3rd Marine Division had suffered 423 killed and 1,418 wounded on Bougainville.[14]
After returning to Guadalcanal in January 1944, De Clute's unit started planning and training for their next operations. They left Guadalcanal on June 2-3 to be part of the floating reserve force for the invasion of Saipan, and they remained on their ships from June 15-28 without being put ashore.[15]
Saipan was part of the campaign in the Marianas to gain air bases on Saipan, Tinian, and Guam for B-29 bomber attacks on Japan.[16]
The next objective of the Marines of the 3rd Division was the island of Guam. Shortly after the attack on Pearl Harbor, 153 lightly-armed Marines on the remote island of Guam were overwhelmed by almost 6,000 Japanese.[17] The Marines of the 3rd Division landed on Guam on July 21, 1944, intent on avenging that loss.[18] During his interview with the La Crosse Tribune, De Clute said :
The landing at Guam was my toughest assignment as we suffered about 40 per cent casualties when we came under heavy mortar barrages July 21, 1944 . . . We circled about for about an hour under heavy fire waiting for the go-ahead signal to land and then our actual landing operations took about 20 minutes before we made the 1,500-yard advance on the beach dodging mortar fire from all directions.[19]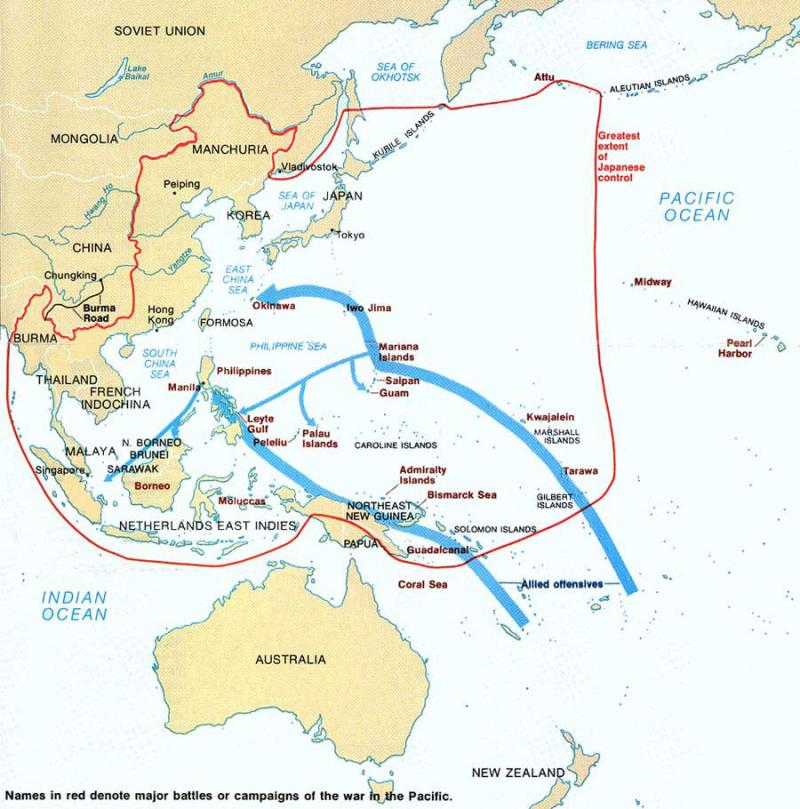 The Pacific Theater in World War II
(NCpedia)
Along with the 1st Provisional Marine Brigade and the Army's 77th Division, the 3rd Marine Division took Guam from its 18,000 Japanese defenders in 20 days at the cost of 8,000 casualties. Guam became the base for two B-29 airfields.[20] De Clute's unit remained on Guam until February 1945.[21]
Iwo Jima was the last battle for De Clute and his unit. The 4th and 5th Marine Divisions landed on Iwo Jima on February 19, 1945.[22] The 3rd Marine Division was in reserve, and the casualties suffered by their comrades necessitated their commitment to the battle on February 24. The slow advance was marked by hellish combat against the well-entrenched Japanese defenders whose mission was to die fighting. The 3rd Division made the final attack of the battle on March 16 to secure the island. Army units relieved the Marines on April 4, 1945.[23] In five weeks of fighting, the three Marine divisions had suffered more than 25,000 casualties; of those, almost 7,000 were killed in action. The 18,000 Japanese defenders were almost wiped out.[24] Marshall De Clute remarked that the two Marine Corps cemeteries on Iwo Jima were beautiful.[25]
De Clute also recalled how he and his fellow Marines had lived in their foxholes on both Guam and Iwo Jima because they were under constant attack.[26]
While Marshall De Clute was fighting with the Marines in the Pacific Theater, his family was making contributions to the war effort in different ways.
His brother, Harry, was a corporal in the Army Quartermaster Corps in England.[27]
His father, Silas J. De Clute, was a member of the Coast Guard Reserve in La Crosse.[28] That is until he took a leave of absence from his job at La Crosse Breweries to enlist in the United States Merchant Marine in August 1943 at the age of 52. Silas De Clute was assigned to a boat on the Great Lakes for the duration of the war.[29]
His mother, Natalie De Clute, was the first block worker in La Crosse to get every household on her block to buy extra war bonds during the Fifth War Loan drive in June 1944. Her block was "between Farnam and Park, between 15th and 16th."[30]
(La Crosse Tribune, 1944 June 27, page 5)
Following Iwo Jima, De Clute's unit returned to Guam. The 2nd, 3rd, and 5th Marine Divisions were slated to be part of the invasion force attacking Kyushu, Japan about November 1, 1945.[31] The atomic bombings in early August 1945 and the subsequent surrender of Japan canceled "Operation Olympic."
During World War II, the Marine Corps has lost 19,733 men killed in action or died of wounds and had 67,207 wounded.[32] There would be no more.
Instead of risking his life against the Japanese again, Marshall De Clute returned to his wife, the former Janice Ginsky, who was living with her parents at 1240 Farnam Street.[33]
Marine Corps veteran Marshall De Clute settled into postwar life. He and Janice bought property on Cass Street between 10th and 11th streets.[34]  Marshall, who took up the plumber's trade, installed water lines to the new lodge at Camp Ehawee as part of a volunteer work day for fathers of Girl Scouts.[35] He and his wife had two daughters and a son. He was a member of the Masonic Lodge in La Crosse.[36]
But some difficult times came later. He and his wife, Janice, split up sometime after 1959.[37] In August 1960, Marshall De Clute declared bankruptcy.[38]
On January 29, 1961, he married Bernice A. Witzke in Winnebago County, California.[39] She had a son and a daughter.[40]
They apparently decided to make a fresh start in California. In 1962, they were living in San Mateo, California.[41] Marshall became a member of the American Legion Post in Redwood City, California. By 1991, Marshall had retired from plumbing, and they were living in Pleasanton, California.[42]
On May 29, 1991, Marshall De Clute died in a hospital at Livermore, California, at the age of 72. Funeral services were in La Crosse on June 15, and he was buried at Mormon Coulee Memorial Park Cemetery.[43]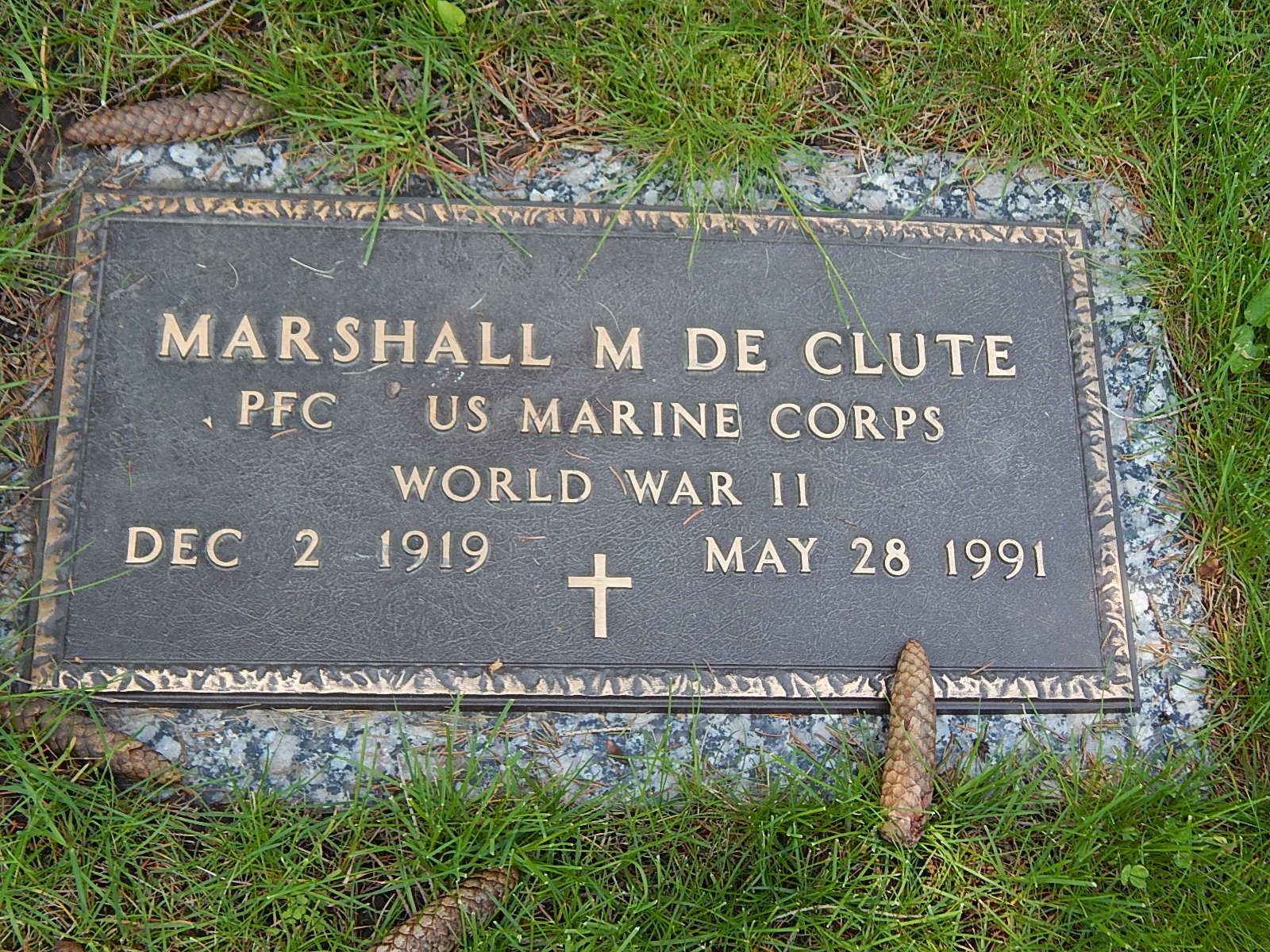 (Findagrave.com)
Could there be a more fitting epitaph for a veteran's life than what was inscribed on a cross in the Marine Corps cemetery on Guadalcanal:
And when he goes to Heaven
To Saint Peter he will tell:
Another Marine reporting, Sir;
I've served my time in hell![44]
In other stories this week:
Captain Woodrow Hauser of La Crosse is killed in the crash of an Army transport plane at Okinawa.
Herbert and James Zernecke, both captains in the Army, were together for almost the entire five years of their military service.
Corporal Malcolm Nelson of La Crosse writes about the V-J Day celebration in the Philippines and the appreciation expressed by the Filipinos for their liberation by the Americans.
1st Lt. Edward Meyer of Holmen visits the Christian Service Center at Tampa, Florida. Rev. and Mrs. A.  A. Smith corresponded with Meyer's mother while he was a POW in Germany and contributed gifts to care boxes sent to him.
A memorial service is held for Major Glen Ziel of La Crosse who died in Paris from injuries sustained in a jeep accident.
Private First Class Leslie French of La Crosse is declared killed in action in Germany in January 1945.
Irvin Romskog of Holmen is a crewman on a transport ship that landed the first American occupation troops in Japan.
Sgt. Joseph Aliesch meets his uncle and aunt in Switzerland.
Former Longfellow Junior High School Principal Stuart Brokaw is promoted to Lt. Colonel in charge of over 3.500 German prisoners of war at Camp Grant.
See more HERE
Jeff Rand
Adult Services Librarian
La Crosse Public Library
jrand@lacrosselibrary.org
Sources & Notes:
---
1945 September 3-9
"The Top Kick"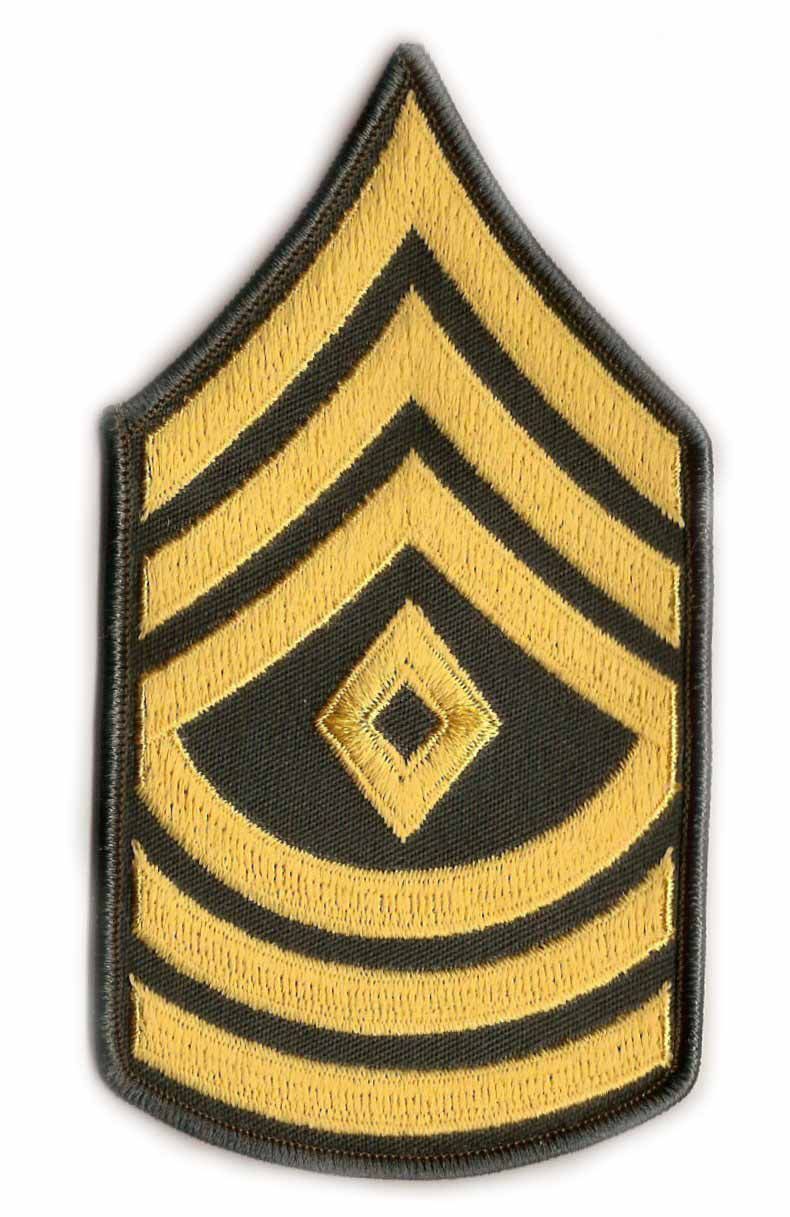 First Sergeant insignia, United States Army
(Priorservice.com)
When General George Washington wanted to instill some organization and professionalism into the rag-tag colonial army during the American Revolution, one of the men he hired to do it was the professional Prussian soldier, General Baron Von Steuben.
The nascent American army had no manuals to guide its operations, so Von Steuben wrote the book on how it should be done. In his Regulations for the Order and Discipline of the Troops of the United States, one of the things Von Steuben set up was five ranks of noncommissioned officers to lead other enlisted soldiers based on the traditions of European armies. The noncommissioned officers, or NCOs, were corporal, sergeant, first sergeant, quartermaster sergeant, and sergeant major.[1]
The status and duties of the first sergeant have been relatively consistent since its creation. The first sergeant is the senior NCO in companies, batteries, and troops. The first sergeant is responsible for:
motivation and discipline in the enlisted ranks
routine company administration, such as morning reports and duty rosters
assisting the company commander in conducting operations
 
Qualities needed for the rank are personal leadership skills, excellent performance, dedication to duty, moral character, integrity, and military bearing.[2]
In Army slang, the first sergeant is sometimes called the "Top Kick," or simply "Top."[3]
One of the first sergeants from La Crosse County during World War II was Francis Murphy of La Crosse.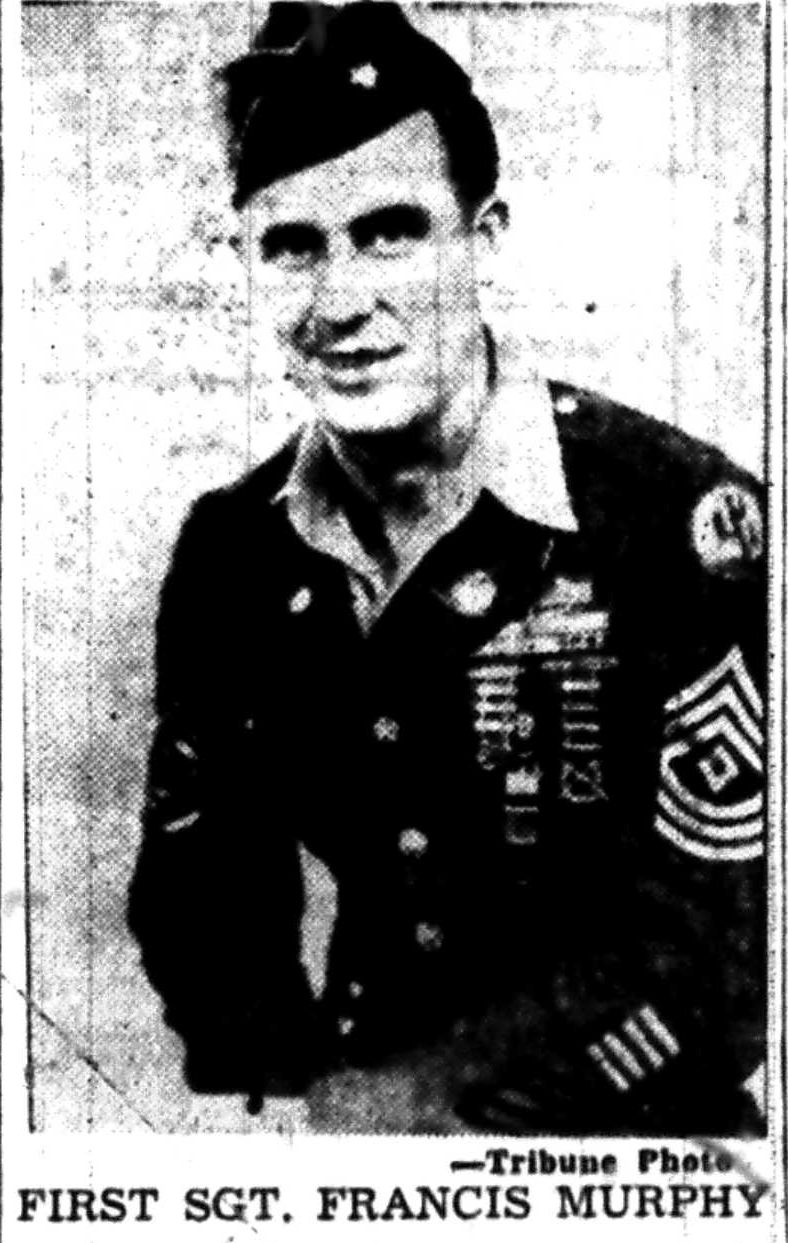 (La Crosse Tribune, 1945 September 9, page 4)
His parents were Mr. and Mrs. E. L. Murphy. He had three brothers and four sisters.[4] As a youth attending St. Mary's Grade School in La Crosse, Murphy went door-to-door selling magazines and the La Crosse Tribune.[5]
Murphy enlisted in the U.S. Army in June 1935. He served with the U.S. harbor patrol in Alaska and was also involved activation and mobilization of troops before being sent to the European Theater of Operations in October 1944.[6]
In Europe, First Sgt. Murphy was part of the 411th Regiment in the 7th Army.[7] The 411th Regiment was activated on November 15, 1942, at Camp Claiborne, Louisiana. After organization and training in the United States, the 411th Regiment, and its parent unit the 103rd Division, arrived in Marseilles, France on October 20, 1944. In November the 103rd Division went into combat in east-central France as part of the 7th Army's offensive into the Vosges Mountains and the area of Strasbourg. The men of the Cactus Division seized heavily-defended mountain passes. One of the cities they liberated during this time was Ebersheim, France.[8]
Murphy said his unit was crossing a bridge at Ebersheim when it was blown up underneath them. They were stranded "in neck-high water for 24 hours," all the while fighting German troops. Their communications were cut until a soldier was able to patch a wire with adhesive tape. Then they were able to contact an artillery battery for fire support to cover their withdrawal after 24 hours in the river.[9]
A German offensive launched on New Year's Eve against the 7th Army led to several weeks of hard fighting. On January 19, 1945, a tank battalion and Murphy'scompany of infantry were ordered to take Sessenheim, France.[10] Murphy said there were supposed to be 200 German SS troops in the town. What they ran into was 200 SS troops plus 200 German paratroopers. In two hours of combat, the Americans lost ten tanks and Murphy's company suffered 128 dead and wounded out of 160 men. Murphy, wounded in the back by a German 88mm shell, had to take command of the company because all of the officers were casualties. He refused to leave his unit, so he was not treated in a hospital until March 2nd.[11]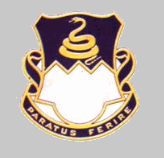 411th Infantry Regiment insignia, "Ready to Strike"
(University of Southern Mississippi)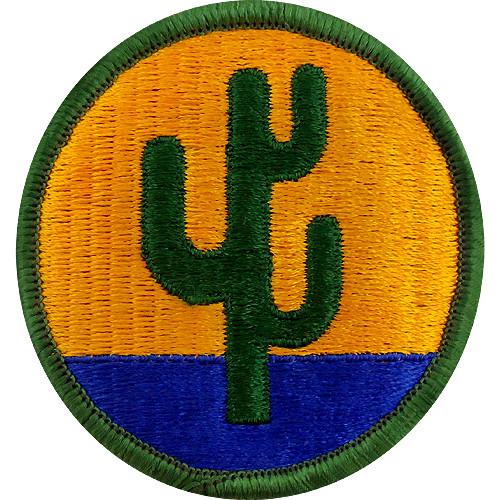 103rd Infantry Division insignia
(USAMM)
In mid-March, the 103rd Division punched through the Siegfried Line and reached the Rhine Valley in Germany on March 23, 1945. As the war ended, the 103rd Division was in Austria. The 103rd Division was returned to the United States in early September 1945.[12]
First Sgt. Francis Murphy had gotten back before his comrades because of his wounds, returning on a hospital ship in May 1945. Murphy came home to La Crosse where he had 70 days of convalescent and regular furlough. Murphy was to leave La Crosse on September 14 and report to Miami, Florida for another two weeks of rest. At that time, Murphy planned to make the Army his career.[13]
The 103rd "Cactus" Infantry Division was deactivated on September 22, 1945.[14]
Francis Murphy remained in the Army and retired as a master sergeant. He and his wife, Christine, had a son and two daughters. They were living in Sacramento, California, when Francis Murphy died on October 22, 1960, at the Letterman Hospital in San Francisco. He was just 42 years old.[15]
Fifteen years after his 1945 furlough, Francis Murphy came back to La Crosse for the final time. His funeral services were in the Holy Trinity Catholic Church in La Crosse, and he is buried in the Catholic Cemetery.[16]
Francis Murphy was a professional soldier whose role was defined by another professional soldier before the United States even became a country. He had exemplified what it meant to be the "Top Kick."
In other stories this week:
Staff Sgt. Ervin Proksch of La Crosse is awarded a posthumous Silver Star for gallantry in action in Italy. He sacrificed himself so that his squad could withdraw to a more secure position.
George Monsoor of La Crosse and Robert Horman of Onalaska are both serving on the battleship U.S.S. North Carolina in the Pacific.
T. Sgt. Roger Hiekel, a La Crosse Central graduate, writes about being under a buzz bomb blitz in Liege, Belgium.
There is a memorial service for Raymond Schroeder of Bangor who killed himself accidentally while cleaning his rifle.
Kenneth Groth of La Crosse was on the destroyer escort England when it was struck by a Japanese kamikaze at Okinawa.
Robert W. Hazek, John J. George, and Dean F. Peterson of La Crosse all served in the 10th Mountain Division.
Sgt. Norman L. Meier, Jr., who owned Manhattan Studios in La Crosse before the war, has taken several hundred color photographs in Australia and the South Pacific.
Curtis Ramsey of La Crosse is a musician on the aircraft carrier Shangri-La.
See more HERE
 
Jeff Rand
Adult Services Librarian
La Crosse Public Library
jrand@lacrosselibrary.org
Sources & Notes:
---
1945 August 27-September 2
Sunset for the Rising Sun
Seventy-five years ago, on September 2, 1945, Gordon W. Jamesson of La Crosse was part of one of the greatest events in human history, the end of the most destructive war mankind has ever inflicted on itself. As a crewman on the battleship U.S.S. Missouri, he was there when representatives of Japan signed the surrender document that officially ended World War II.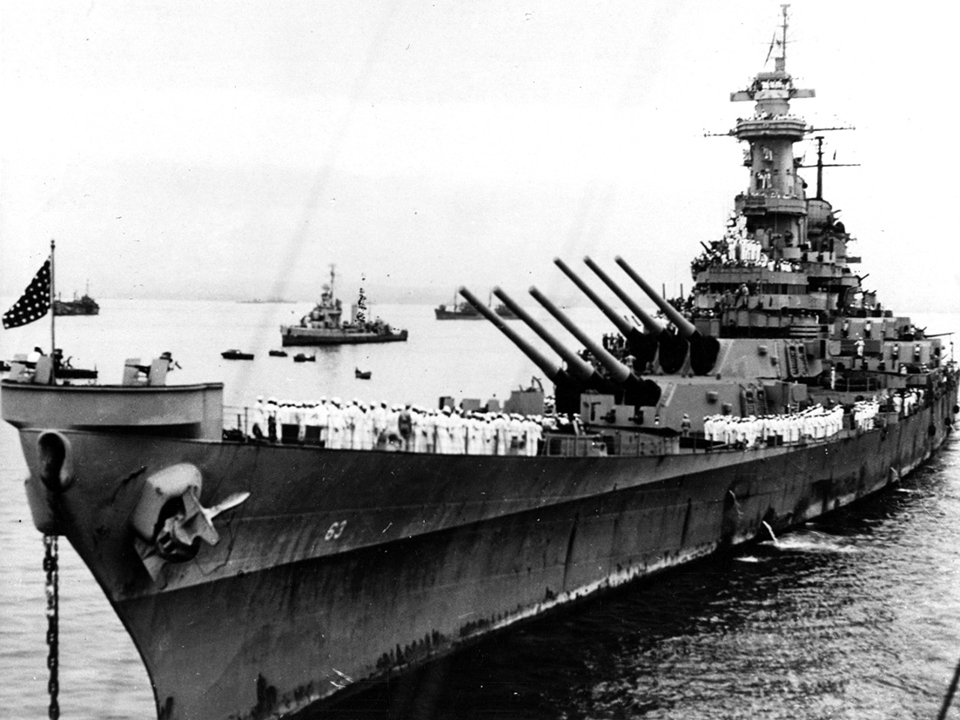 U.S.S. Missouri in Tokyo Bay
(The National WWII Museum)
The Missouri was one of more than 300 Allied ships that sailed into Tokyo Bay to accept the Japanese surrender and begin the occupation of Japan. The Missouri was the flagship of the United States Navy's Third Fleet, and General Douglas MacArthur had already been chosen to command the occupation of Japan, so they were the key players in this event.[1]
Japanese delegation arriving on the U.S.S. Missouri
[Japanese foreign minister on left in top hat]
(National WW II Museum)
Eleven Japanese delegates arrived at 8:56 a.m. local time. General MacArthur and Admirals Chester Nimitz and William Halsey were at a table where the surrender documents were spread out. The ceremony began with a prayer, the playing of the "Star-Spangled Banner, "and a short speech by MacArthur. [2] Japanese Foreign Minister Mamoru Shigemitsu and General Yoshijiro Umezu signed the surrender document at 9:04 a.m. General MacArthur signed on behalf of the Allied Nations.[3] Standing just behind MacArthur were British General Arthur E. Percival and American General Jonathan M. Wainwright. Percival's British forces had been out-maneuvered and out-fought on the Malay Peninsula leading to the downfall of the British bastion at Singapore. Wainwright had taken over command of the doomed American and Filipino troops in the Philippines after MacArthur had been ordered to escape to Australia. Both had endured years of imprisonment by the Japanese. Representatives of other Allied nations signed for their countries, and the ceremony was over in just 23 minutes.[4] Hundreds, and by some accounts thousands, of American planes then flew over Tokyo Bay.[5]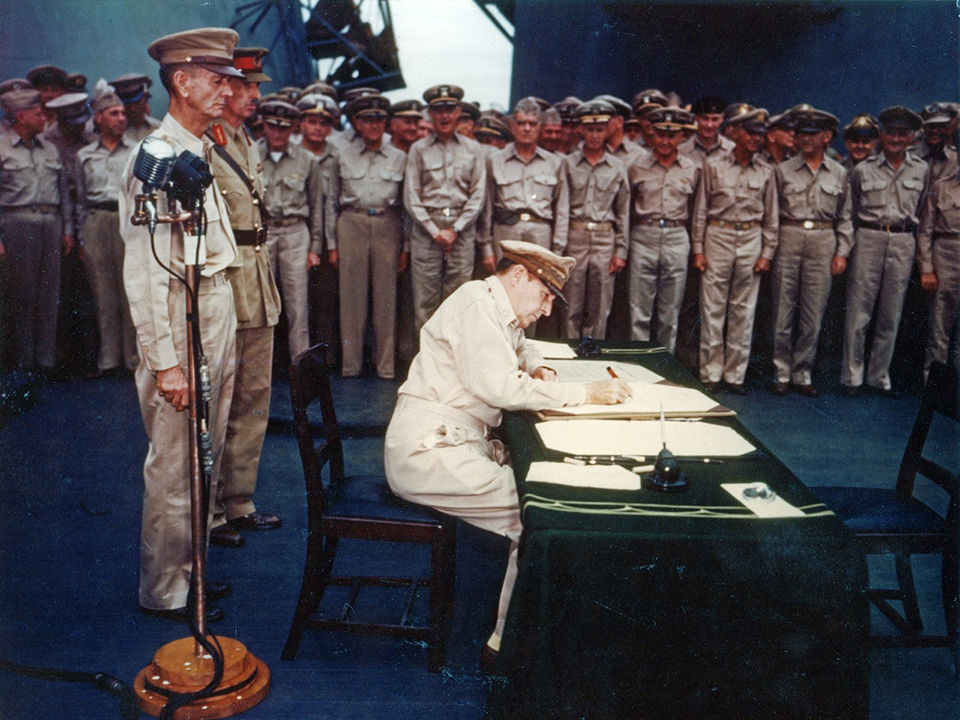 General Douglas MacArthur signing the surrender documents
(National WW II Museum)
An article in the La Crosse Tribune, September 5, 1945, states that Gordon Jamesson, seaman, second class, "was present when the Japanese envoys came aboard to sign the final surrender document." [6]
The Jamesson family was native to Virginia. Gordon Jamesson's great-grandfather came to La Crosse with his family in 1884 to work in the sawmills. His grandfather, Albert G. Jamesson, became La Crosse's first plumbing inspector in 1915. Albert  G. Jamesson retired from that position at the age of 83 in 1953. Gordon Jamesson's father, Albert E. Jamesson, was a veteran of World War I.[7]
Gordon William Jamesson was born on December 4, 1925, in La Crosse.[8] He grew up at 626 La Crosse Street,[9]  and he attended Central High School.[10]
He enlisted in the United States Navy on December 3, 1943, when he was 18 years old.[11] Jamesson was on the U.S.S. Missouri for 24 months[12] as part of a crew of 1,921 men. Construction began on the Missouri in January 1941, and she was launched on January 29, 1944. One year later, the Missouri was in the Pacific Theater where she bombarded Iwo Jima, Okinawa, and the Japanese home islands, as well as escorting aircraft carriers conducting operations against Japanese forces.[13] Seaman Jamesson was on the Missouri on that momentous day when World War II finally came to an end.
Gordon Jamesson had been promoted to Seaman, First Class, by the time he was discharged on May 15, 1946, at the Great Lakes separation center in Chicago.[14]
Even discharged veterans had to register with the Selective Service at that time. Jamesson did so on the same day he was discharged. At that time he was five feet, seven inches tall, and weighed 173 pounds, and he had a tattoo on his left arm. The now twenty-year-old, newly-discharged veteran listed his employment status as "unemployed."[15]
Perhaps finding a job was difficult with all the other veterans flooding the labor force, or maybe civilian life did not agree with Gordon Jamesson.
Whatever the reason, Jamesson enlisted in the United States Air Force on February 20, 1947, less than a year after he left the Navy.[16]  He was stationed with the Military Air Transport Service at Great Falls, Montana, and later the 1733rd Air Evacuation Squadron.[17] At the beginning of 1951, Jamesson was promoted to staff sergeant. He was an airplane mechanic stationed at McChord Air Force Base in Tacoma, Washington.[18]
While he was at McChord, Gordon Jamesson married Helen Greer of King County, Washington, on April 29, 1951, at the Air Force Chapel on the base.[19]
In June 1951, Jamesson was transferred to Albrook Air Force Base in the Panama Canal Zone. There he was assigned to the 26th Air Rescue Squadron. Jamesson and his wife had a son named Robert. They left the Canal Zone on May 24, 1954, returning to McChord Air Force Base at Tacoma, Washington, for assignment with the 43rd Air Rescue Squadron.[20]
Jamesson left the Air Force on March 31, 1965.[21]
Like Gordon Jamesson, the battleship Missouri remained in service long after World War II ended. She saw action again in the Korean War before being decommissioned in 1955 at Bremerton, Washington. After 30 years in reserve, the Missouri was modernized and recommissioned in 1986. She launched Tomahawk missiles and shelled Iraq during Operation Desert Storm. The Missouri was decommissioned again in 1992 and removed from Naval Vessel Register in January 1995.[22]
In May 1998, the Missouri was donated to be a museum and memorial at Pearl Harbor.[23] It remains there today and is open to the public for tours. Visitors can view a commemorative plaque on the deck that shows the spot where the World War II Japanese surrender ceremony took place, as well as photographs and facsimile documents from the event.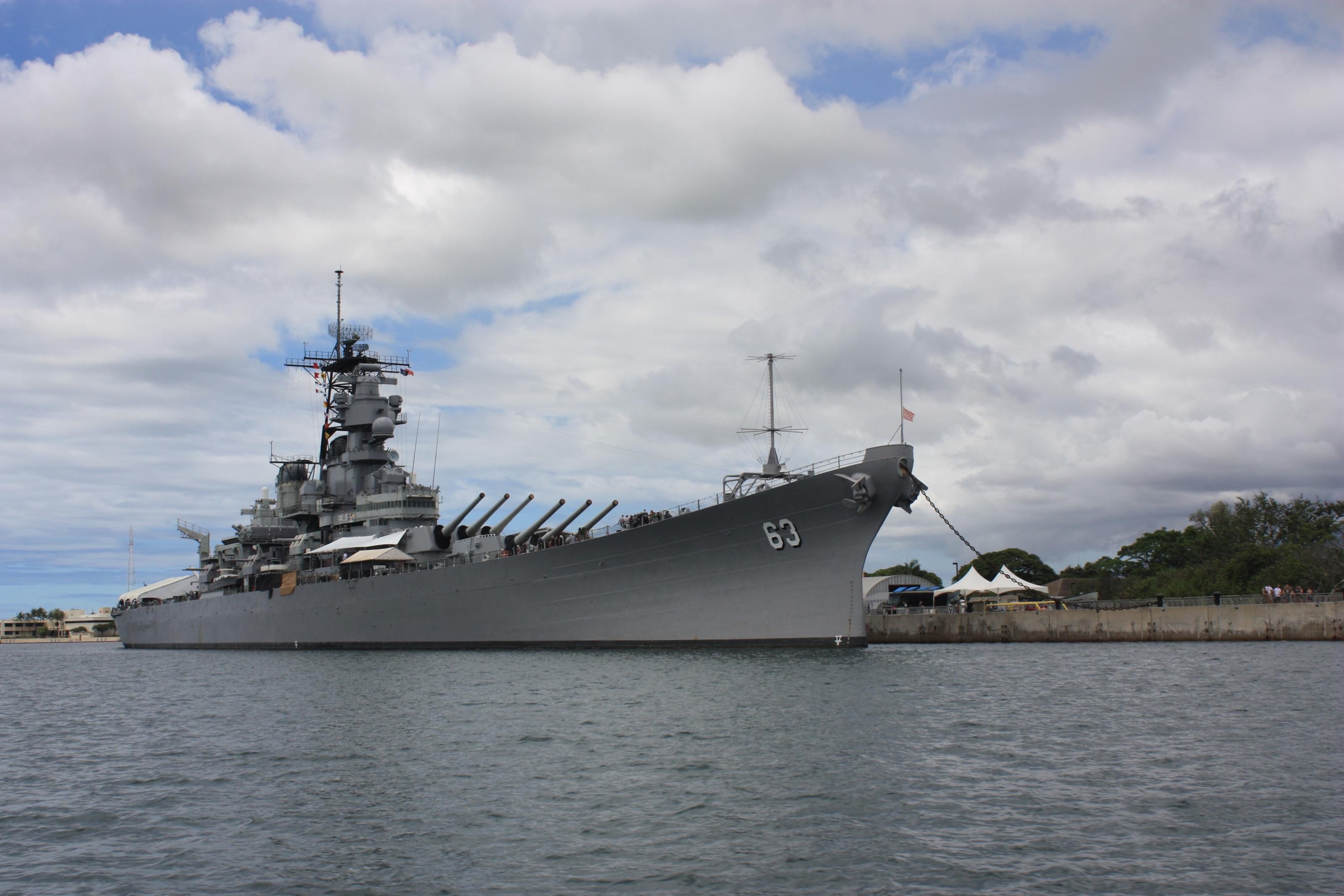 U.S.S. Missouri at Pearl Harbor, Hawaii
(Jeff Rand, 2018 September 2)
The place where World War II ended
(Jeff Rand, 2018 September 2)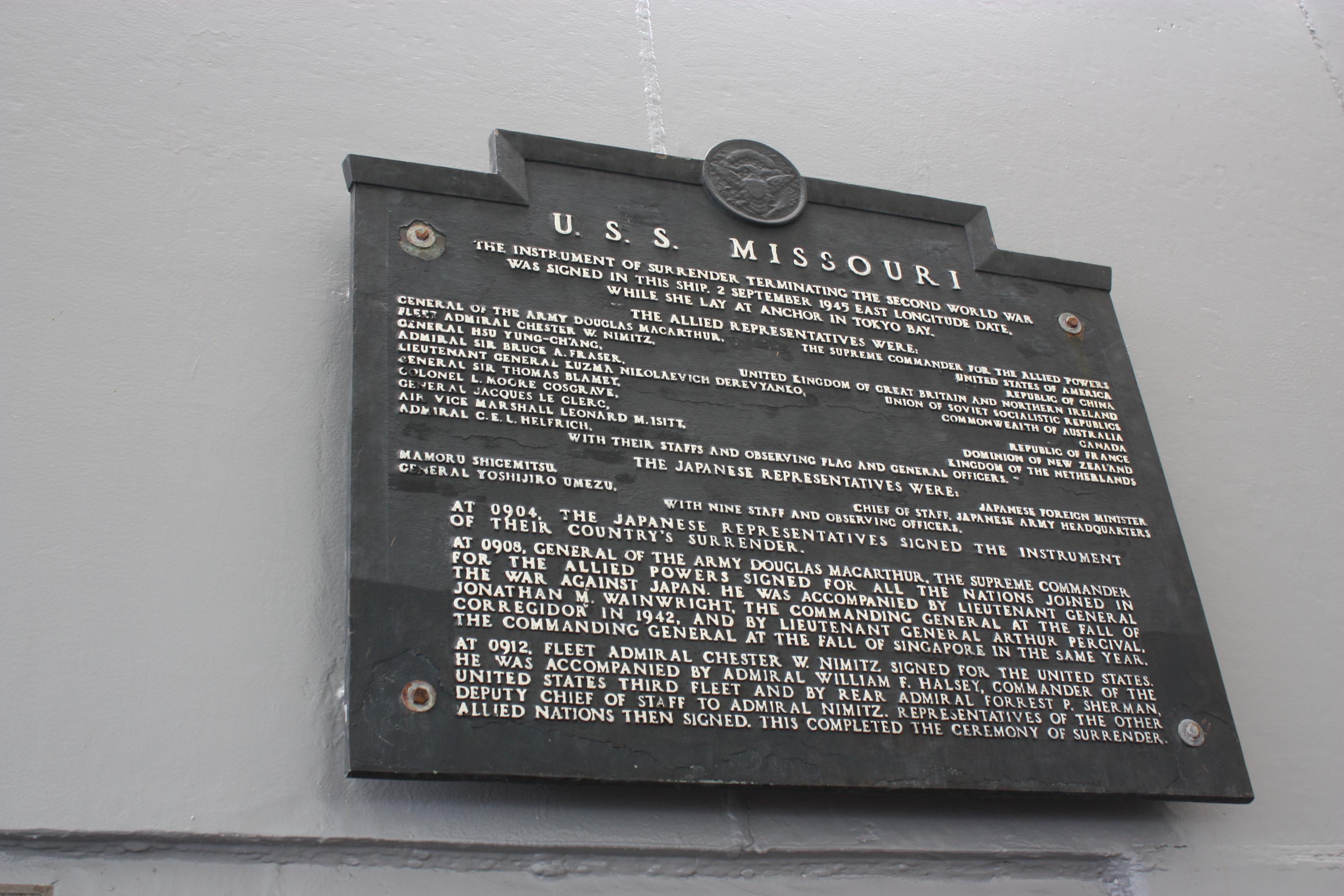 Plaque with details of the surrender ceremony
(Jeff Rand, 2018 September 2)
Surrender table display
(Jeff Rand, 2018 September 2)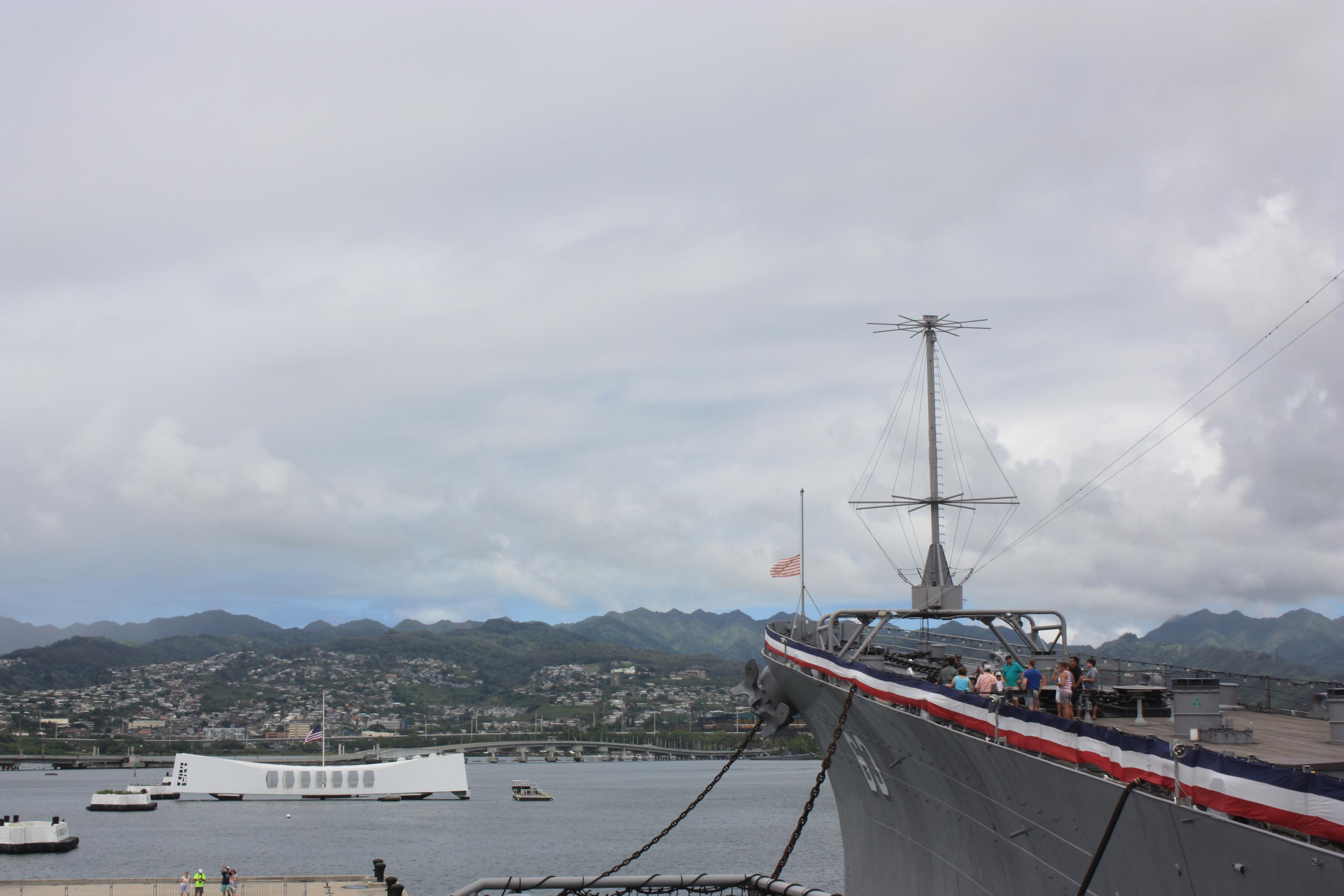 U.S.S. Arizona Memorial (left) and bow of the U.S.S. Missouri
(Jeff Rand, 2018 September 2)
Although the Missouri lives on, Gordon Jamesson does not. He lived in Kitsap, Washington, at the time of his death at the age of 64. Gordon W. Jamesson, formerly of La Crosse, died on September 6, 1990, just four days after the 45th anniversary of the historic end to World War II to which he had been a witness.[24]
In other stories this week:
1st Lt. Chester Britt of La Crosse is found in a Japanese POW camp in Manchuria
1st Lt. Robert Faas of La Crosse writes about bailing out of his crippled fighter plane over the ocean near Japan and being rescued
Corporal Ramon Briggs of New Amsterdam describes some of the more dangerous celebrating of V-J Day on Okinawa
Warren Hansen and Roy Munson, both of La Crosse, were on extended patrols behind Japanese lines on Luzon
Edward Davidson of Onalaska details the frustrating delays in obtaining his discharge and returning home
James Hollnagel and Myron Helgerson are on the battleship Idaho as part of the occupation of Japan
Donald Saley, as a crewman on the cruiser Topeka, took part in the first shelling of Japan
See more HERE
Jeff Rand
Adult Services Librarian
La Crosse Public Library
jrand@lacrosselibrary.org
2020 September 6
Sources & Notes:
---
1945 August 20-26
Gathering Up the Dead
(La Crosse Tribune, 1945 August 21, page 7)
The Quartermaster Corps goes all the way back to the American Revolution when the Second Continental Congress authorized it on June 16, 1975. Quartermasters provided most supplies for the troops by working with local purchasing agents who received a commission. During the Civil War, the Quartermaster Department took on the responsibility of caring for the dead and maintaining national cemeteries. [1]
During any war, taking care of the dead after the battle is a task that nobody wants.
The 3059th Graves Registration Company was just one of many such units performing this job in World War II. Harry H. Maxwell of La Crosse is the first La Crosse County man we have seen mentioned as having done that duty during the war.
Harry Howard Maxwell was born on May 24, 1923, in Sawyer County, Wisconsin. His parents were Howard Cliffton Maxwell and Ruth (Rose) Maxwell.[2] He had two brothers, Raymond and Donald, and a sister named Dorothy.[3]
At the time Maxwell registered for the Selective Service in June 1942, the five-foot-eight-inches tall, 148-pound, nineteen-year-old was living with his mother at 702 Powell Street in La Crosse. He worked for Safticycle Co. in La Crosse. In November 1942, they moved to 600 1/2 Copeland Avenue.[4]
We do not know much about Maxwell's unique service during World War II, but we can get a sense of it from others who had a similar experience.
Graves Registration at work on Omaha Beach, 1944 June 7
(med-dept.com)
Sometimes soldiers were temporarily assigned to graves registration details. Author James Jones wrote of the time on Guadalcanal when he was assigned to a group to dig up American bodies from a  battle two weeks earlier. The dead were from another regiment, so men from his unit were ordered to do it. Even so, one of the men had a brother in that regiment. They dug up the man's brother on that day. As each body was dug up and put into a body bag for transport, one dog tag was given to an officer for record-keeping purposes and the other dog tag remained with the body. Four of those bodies had no dog tags, so they were recorded as unknown.[5]
The climate and elements could make the job even worse than it normally would be. 
When correspondent Robert Sherrod landed at Tarawa after the fighting, he wrote that the "overwhelming smell of the dead hit me full in the face." When the tide came in, it carried along with it the bodies of Marines who had been killed in the water during the landing. Corpsmen waded in and pulled the remains up on the beach. It was a ghastly job after the bodies had been floating in the water in the tropical heat for a couple of days. The bodies were buried in a trench by a bulldozer. [6]
Marine bodies at Tarawa
(National WWII Museum)
In the freezing winter weather, bodies were frozen in sometimes grotesque poses. They were loaded like cordwood on to trucks.
Battlefield conditions sometimes dictated that bodies were not recovered in a timely fashion. At the Anzio beachhead on the Italian coast, constant German shelling meant that many of the dead "rotted for months."[7]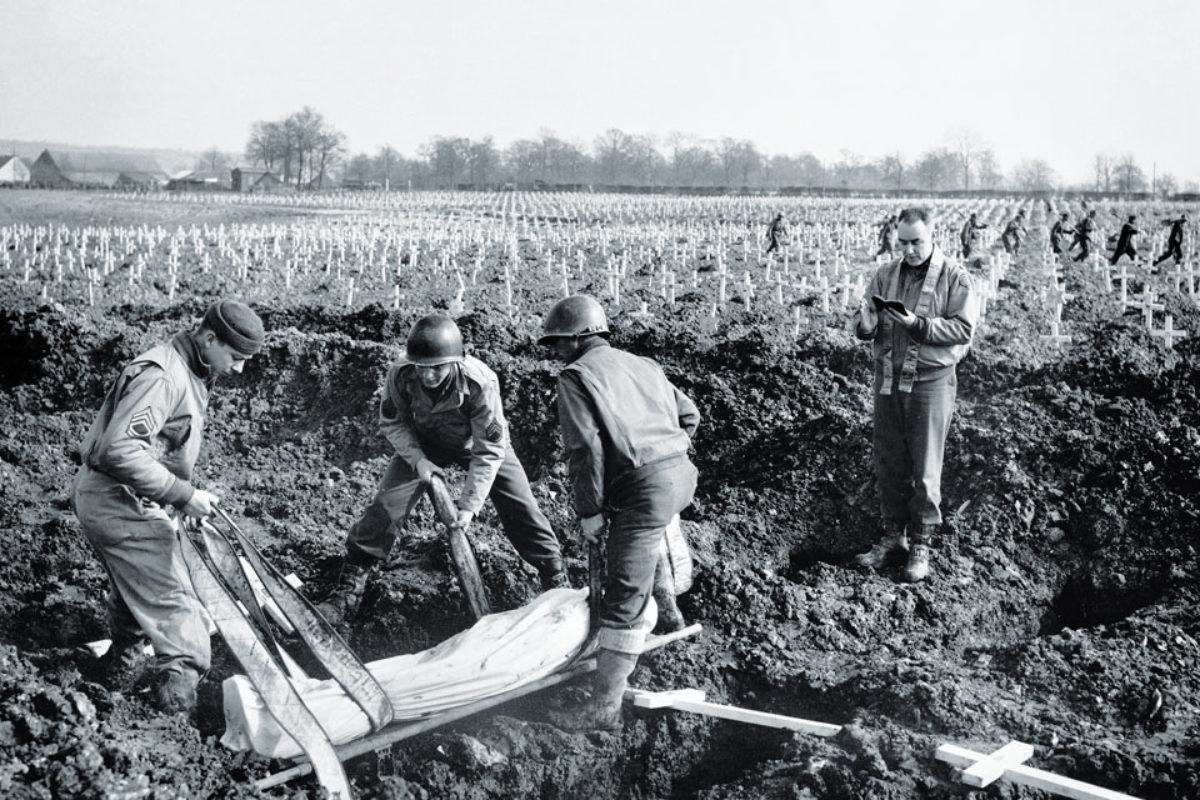 Burying the dead at Henri-Chapelle, Belgium, 1945 March 14
(HistoryNet.com)
Modern weaponry made the horrible task even more gruesome. "'You know what a direct hit by a shell does to a guy?' a member of a Graves Registration detail said to a reporter. 'Sometimes all we have is a leg or a hunk of arm.'"[8]
Six days after the invasion of Iwo Jima in the Pacific, the 4th Marine Division was already starting to bury its dead in a temporary cemetery. Lt. Gage Hotaling, a Navy chaplain assigned to Graves Registration, said, "'At one time, we had four hundred or five hundred bodies stacked up waiting for burial . . . I am not a smoker, but I found that the only way that I could go around and count bodies was to smoke one cigarette after another . . . I was addicted to smoking for twenty-six days . . .'"[9]
Historian Stephen Ambrose wrote that the men of the Graves Registration detail "were usually drunk," because that was the only way they could get through it.[10]
Graves Registration was a large and important operation during World War II. As with everything in the Army, there was a procedure to be followed. It was outlined in a field manual.
(med-dept.com)
The normal procedure during World War II after land battles was to bury the dead in temporary cemeteries as soon as possible. Later the bodies would be dug up and moved to a division or army cemetery in the rear area. After the war, the family could choose to have the body brought back to the United States for burial. Bodies were being disinterred and brought back to the United States for years after the war. The American Battle Monuments Commission maintains military cemeteries around the world for those Americans who remain where they died.[11]
For those killed at sea, burial at sea was the universal method of body disposal. The body was sewn into a canvas bag weighted with a five-inch shell and placed on a board draped with an American flag. With shipmates standing at attention and detail to fire a funeral volley, the board would be tipped so the body dropped into the sea.
Many bodies were not recovered, so these men would be listed as "Missing." After a year, the status was changed to "Missing-Presumed Dead."
The personal effects of the deceased service person would be returned to the next of kin. Next of kin also received a "death gratuity" from the United States government equal to six months of the deceased person's pay.[12]
Perhaps Corporal Harry Maxwell's time in Europe was not so bad. His company performed maintenance of cemeteries at Normandy beginning in November 1944 when the war had moved far to the east. But how can we know that was all? Was he haunted by nightmares after the war? Did he have memories that he tried to drown in alcohol? Or was his post-war experience no different than that of any other veteran who had seen the brutality of war firsthand? We will never know.
Maxwell returned to La Crosse after his time in the Army. He worked for Trane Company for 39 years. Maxwell was a member of American Legion Post 417 on French Island and the La Crosse Chapter of Disabled American Veterans.[13]
On May 16, 1959, he married Chrystal Whitman of 2602 Jackson Street.[14] Three years later, Harry was living at 523 Car Street and Chrystal was living at 2827 Harvey Street when they were divorced. They had no children.[15]
Harry Maxwell was 66 years old when he died on December 4, 1989. The man who had taken care of the dead during the most destructive war in human history was entombed at the Gardens of Peace Mausoleum.[16]
In other stories this week:
Several area men write about victory celebrations overseas after the news that Japan was surrendering: James Holey of West Salem, William Randall of Onalaska, and Joseph Beranek of La Crosse.
Lt. Louis Lautz of La Crosse, piloting a U.S. Navy Hellcat fighter, shot down a Japanese plane on March 19 that was attacking the aircraft carrier U.S.S. Wasp.
Frank Ikehara, a veteran of the 100th Battalion, decides to make his home in La Crosse instead of returning to his native Hawaii. He gets a job at the La Crosse Ordnance shop.
First Sgt. Richard Beggs, a former baseball and basketball coach at Aquinas High School, relates how he was wounded during the Battle of the Bulge.
Lt. Robert Combellick, 24 years old, flew close air support missions at Iwo Jima and Okinawa in an Avenger torpedo-bomber.
Clair Valentine of La Crosse tells how he was wounded while aiding other wounded men in his unit.
George McBride writes about the largest artillery cannon ever made. It was captured from the Germans.
Jean Tietze of La Crosse is serving on the battleship U.S.S. Iowa.
Sgt Riley Walling of La Crosse was part of a group of soldiers who captured 28 Japanese on Okinawa.
See more HERE
Jeff Rand
Adult Services Librarian
La Crosse Public Library
jrand@lacrosselibrary.org
Sources & Notes:
---