You are here
The Main library now offers a reservable study room on the second floor at Main. It is meant to provide a quiet study and meeting area for individuals or groups. Examples of appropriate use include, but are not limited to, group meetings, tutoring, exams, interviews, or a quiet place to work. Please refrain from activities that are not in accordance with the mission of the library, including parties and social occasions. General library policies must be followed at all times. The room can be reserved up to a month in advance, for up to three hours a day, no more than twice a week. Call the Adult Services Desk at 608-789-7122 to reserve.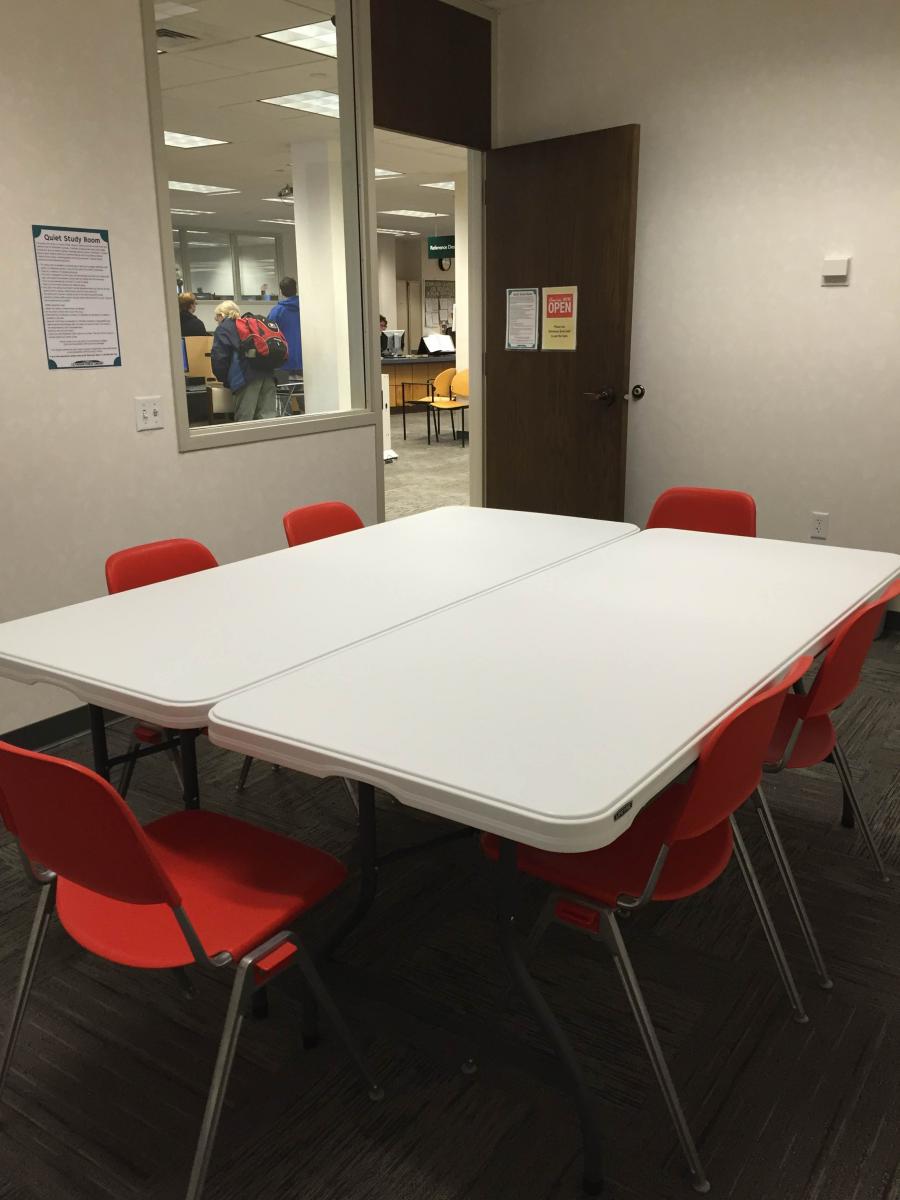 The study room is available to anyone age 14 and up, or younger individuals with parents or caregivers present. Users do not need to be WRLS cardholders.
A maximum of 8 people per group may use the room at one time.
The room can be reserved up to a month in advance for two, two-hour sessions per day (with the exception of library staff).

Time may be extended by one hour if no one else is waiting.

There is a limit of two sessions per week per individual/group.
One user in the group must check in at the Reference Desk.
Security or library staff may check while the room is in use. They will be as unobtrusive as possible.
While using the room
Covered drinks and food that is not messy, delivered, or overly fragrant is allowed.
Do not move furniture in or out of the room.
There shall be no admission charges, no solicitation for donations, or selling of products or services.
Keep the noise from conversations or electronic devices to a respectable level.
Take all personal belongings with you when you leave the room. The library is not responsible for lost or damaged items.
Leave the room as you found it.
Check out with Adult Services staff when you are done. The room will be closed 15 minutes before the library closes.
Misuse of the room may result in a loss of library privileges. Users are responsible for the cost of any damages. 
The Library reserves the right to deny any group or organization's reservation based on its compatibility with the library's mission. 
If you have questions, please stop at the Reference Desk, or call 608-789-7122
 
Updated 1/25/18